Travel >> Events >> India >> Rajasthan >> Jaipur >> Festivals >> Holi Festival
Holi Festival Jaipur
Significance of Holi Festival, Rituals and Celebrations related to Holi Festival in Jaipur, Holi Photo Gallery, Holi Festival Videos, Travel, Events, Festivals, India, Rajasthan, Jaipur, Holidays, Vacations, Hotels, All Inclusive Pacakages, Cheap Flights Air Tickets
---

Significance of Holi Festival
---
Holi Festival (Festival of Colors) is celebrated in spring season throughout India on purnima (full moon) tithi of Phalgun month according to hinu calendar (March month according to western calendar). It is also known as Basant-Utsav, the Spring Festival. The Demon King Hiranyakashipu had enmity with Lord Vishnu, but his son Prahlad was staunch devotee of Lord Vishnu. So Hiranyakashipu tried to stop his son Prahlad worshipping Vishnu. When Hiranyakashipu failed to stop him, he tried many times to kill his own son Prahlad. One day he made a plan with his sister Holika to carry Prahlad in fire. Holika had a divine cloth which cannot be burnt in fire. Holika covered herself with this cloth and carried Prahlad in fire. By the grace of Lord Vishnu the divine cloth moved from demon Holika to Devotee Prahlad. Demon Holika burnt but Prahlad came out safe from fire. Citizens became very happy to see this miracle and victory of good over evil. Next day they celebrated this by throwing various colors on each other to express their love to God.
Rituals and Celebrations related to Holi Festival in Jaipur
---
On Phalgun Shukla Paksha Chaturdashi a bonfire is set at a public place at evening time and is lit at night as per "Muhurat" in remembrance of miraculous escape of Bhakta Prahlad from fire and burning demon Holika in that fire. It is known as Holika Dahan or Chhoti Holi.
Next day, on Phalgun Shukla Paksha Purnima, people celebrate this victory by throwing scented colors, scented water on each other. People prepare special kind of sweets and foods. A special drink known as Thandai is prepared by Almonds, seeds of melon (magaj), black pepper, kesar (saffron), mingi (seeds of musk melon) and milk. Dal Bati Churma is prepared as special food.
At evening or next day or any suitable day within month people arrange social gathering to greet each other. This social gathering is known as Holi Milan, where songs and folk songs related to festival, and epic love stories of Lord Krishna and Goddess Radha are sung.
Holi Photo Gallery
---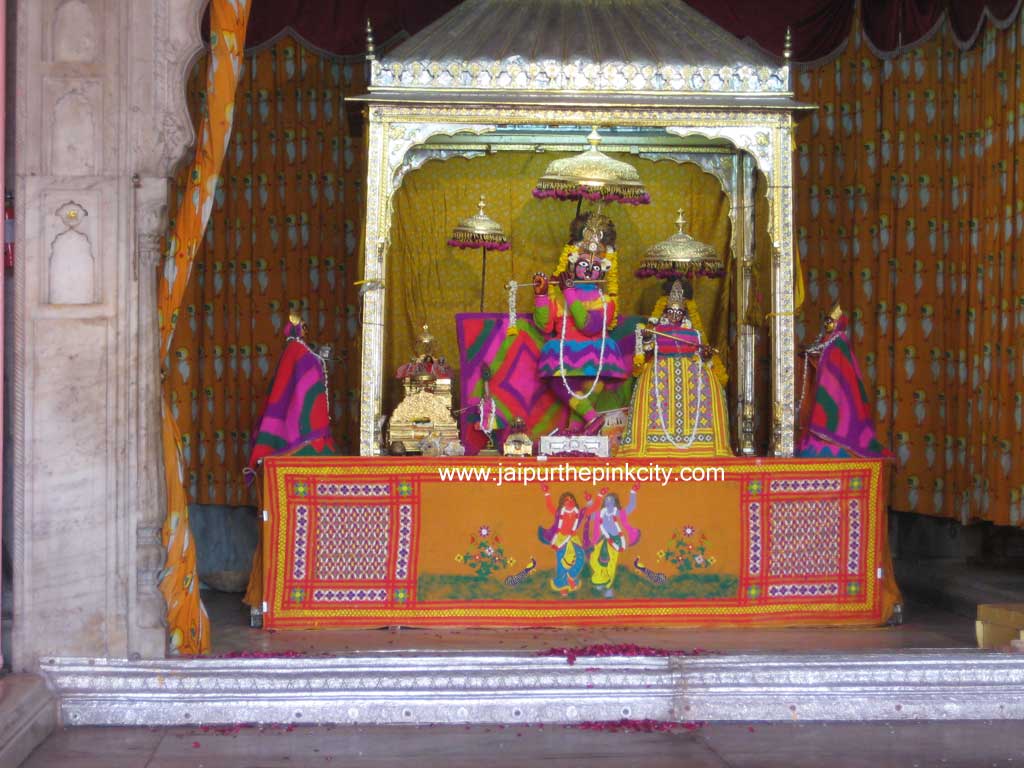 Click here to see Holi Festival Photo Gallery
Holi Festival Videos
---
Suggested Readings for Jaipur
---
External Links for Fairs and Festivals
---
India is well known for colorful fairs and festivals. Find details, photos and videos of Indian Fairs and Festivals at ekunji.com
Tags:
---
Travel Events Festivals India Rajasthan Jaipur Videos, Holi Festival, Fairs and Festivals of Jaipur, Holidays, Vacations, Flights, Hotels, Cheap Air Tickets, Car Rentals, All Inclusive Packages, Jaipur the Pink City, About Jaipur, jaipurthepinkcity.com
Choose Best Travel Plan

Our Experts will analyze your requirements and will help build your travel itinerary and provide suggestions. It will SAVE your TIME and MONEY.
Comments
---