Travel >> Festivals >> India >> Rajasthan >> Jaipur >> Jaipur Festivals and Fairs >> Teej Festival
Teej Festival of Pink City Jaipur
Travel Events Festivals India Rajasthan Jaipur Teej Festival Details, Photos, Videos, Fairs and Festivals of Jaipur, Holidays, Vacations, Flights, Hotels, Cheap Air Tickets, Car Rentals, All Inclusive Packages, Jaipur the Pink City, jaipurthepinkcity.com
---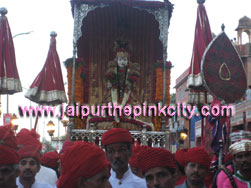 Teej festival of Pink City Jaipur is well known across the world and is an icon of Jaipur tourism. Teej festival is celebrated in Jaipur to welcome monsoon during Shraavan month (July-August) as per Hindu Calendar. On Teej festival, millions of devotees from whole Rajasthan participate in the auspicious rally of Teej Mata (Goddess Parvati). Teej Mata (Goddess Teej) is an incarnation of Goddess Parvati. This two days long festival is celebrated on the 3rd and 4th day of Shukla Paksha (bright fortnight) of Shravan Month. Bright fortnight symbolizes "Growth" hence the women of Rajasthan keep fast for the long life of their husbands while the men of Rajasthan offer their prayers to Teej Mata for good rain and crop. Hindu mythological significance of this festival is that after a long separation, Goddess Parvati reunited with her husband Lord Shiva. She gave a boon to this day that whoever do worship of Goddess Parvati on this day, Goddess Parvati will fulfill his/her wishes.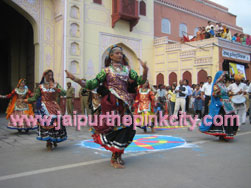 Parents of married women send "Sinjara" to their daughters on the day before Teej. Sinjara is a gift package which includes make-up stuff symbolizing her Suhaag (coverture), i.e. bindi, vermilion, mehandi or henna, bangles; Ghevar (a special disc shaped sweet), and Lahariya (a multi-color sari with zigzag pattern). After receiving those gifts from the parents home, a married lady decorates herself with henna, various ornaments, wears Lahariya sari and enjoy Teej fair with her husband, in-laws and relatives.
In Teej fair, an auspicious rally of Teej Mata starts from Tripolia gate of Pink City Jaipur which passes through various main markets and ends at Chaugan Stadium. Members of royal family decorates the idol of Teej Mata for this auspicious rally. Accouterment (Lawajma) of decorated Elephants, Horses and Camels walk before Teej Mata's Palki (palanquin) which is made of gold and silver. Various folk dances and folk arts are performed during this rally.
Suggested Readings for Jaipur
---
External Links for Fairs and Festivals
---
India is well known for colorful fairs and festivals. Find details, photos and videos of Indian Fairs and Festivals at ekunji.com
Tags:
---
Travel Events Festivals India Rajasthan Jaipur Teej Festival Videos, Fairs and Festivals of Jaipur, Holidays, Vacations, Flights, Hotels, Cheap Air Tickets, Car Rentals, All Inclusive Packages, Jaipur the Pink City, jaipurthepinkcity.com
Choose Best Travel Plan

Our Experts will analyze your requirements and will help build your travel itinerary and provide suggestions. It will SAVE your TIME and MONEY.
Comments
---