Holidays >> Travel >> Things to do >> India >> Rajasthan >> Jaipur >> Heritage >> Monuments >> City Palace
City Palace
City Palace, City Palace Jaipur, City Palace Photos, Images, Pictures, Monuments in Jaipur, Hot spots for Jaipur Heritage Tour, Special Attractions in Jaipur Tour, Hotels, Cheap Flights, Holidays, Travel, Vacations, Trip Advisor, Things to do, India, Travel Agency, Air Tickets, Heritage, Jaipur, Travel Planner, Monuments, Rajasthan, Car Rentals, All Inclusive Packages
---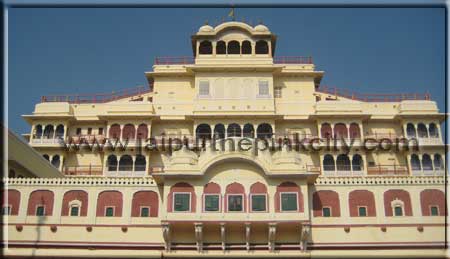 City Palace is situated in the heart of Jaipur City. City palace is still a place of residence of Royal Family. City Palace was built by Maharaja Sawai Jai Singh II. City Palace is an excellent example of Indian architecture (Vastu).
City Palace Museum
A part of City Palace is converted into museum which is open for all. City Palace museum is divided in seven sections namely Bagghi Khana, Sabha Niwas, Sarvato Bhadra Chowk, Pritam Niwas Chowk, Mubarak Mahal, Sileh Khana and 36 Karkhanas.
Bagghi Khana (Hansom Gallery)
Bagghi Khana (Hansom Gallery) of City Palace museum is located adjacent to Udai Pol (entrance gate 2). It has large collection of ancient Bagghi's (Hansoms), chariots and palanquins used by royal family of Jaipur. World famous Victoria Bagghi which was gifted by Prince of Wales to Maharaja in 1876 is also showcased in this Bagghi Khana.
Sabha Niawas (Hall of Public Auduance)
The Sabha Niwas (Hall of Public Audiance) is located in east of Sarvato Bhadra Chowk and adjacent to Bagghi Khana. Sabha Niwas was built during the reign period of Sawai Pratap Singh (1778-1803), which was the period of development of local architectural skills and building craft.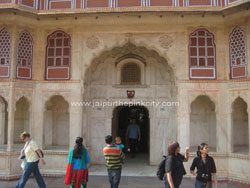 It is specious assembly hall built on a high plinth formed by a platform. In its original form it is open from three sides in the north and wassurrounded by verandahs. The rear wall in the south has double storied galleries closed with intricately carved stone screens. The Maharanis and their retinue would come behind the stone screens to watch the grandeur of Public Durbar when the courtiers would assemble in their prescribed dresses. The hall is resting on artistically dressed marble columns very tastefully finished by the stone cutters of Jaipur. The columns have been placed so skillfully that nothing retards the view both within and without. The ceiling and the arches are painted with various designs in sparkling colors. The gold embellishment on the arches and the ceiling is a work of art which only the Jaipur artisans had perfected. It was in this very hall that the last Maharaja of Jaipur Maharaja Sawai Man Singh II (1922-70) was sworn as Rajpramukh (Governer) of Rajasthan which marked the birth of a new state. The last Durbar which took place in this very hall of public audience was on March 30, 1949.
Sarvato Bhadra Chowk (Private audience hall)
Sarvato Bhadra chowk is located westward from Sabha Niwas. It was a courtyard of private audience hall where Maharaja conducted private meetings with his ministers and advisors, and also celebrated many festivals.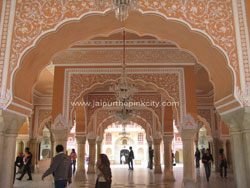 Presently this part of City Palace is converted into museum where world's largest silver Gangajalis (Jars) are displayed. Gangajali's (jar to collect sacred water of holy river Ganga) are the largest silver objects in the world as per the entry in Guinness Book of World Records. They were made in Mistri Khana of City Palace, Jaipur by two silversmiths Govind Ram and Madhav. There are two such jars. Each jar was made out of 14000 Silver Coins which were issued by Kapatdwara treasury of Jaipur State in year 1894. The coins were melted into sheets of silver and then beaten on wooden mould to take shape of jar.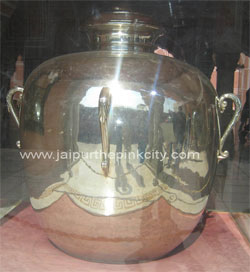 No soldering was done. The entire process took two years and the jars were ready in year 1896. Each jar weigh around 345 Kg. The silversmiths also shaped lids and the handles. Circular base with wheels was constructed for easy movement. Ladders were made for reaching the mouth of the Jar. Height of each jar is 5 feet 4 inch, the circumference is 14 feet 10 inch and the capacity is 900 Gallon (4091 Liters). Interestingly, Maharaja Sawai Madho Singh II took these jars, filled with Gangajal (Ganges Water) on his voyage to England to attend the coronation ceremony of Edward VII in year 1902.
Pritam Niwas Chowk
Pritam Niwas Chowk is located in west from Sarvato Bhadra Chowk.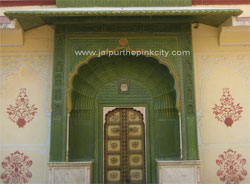 This Pritam Niwas Chowk was used as passage connecting the residence of royal family and courtyards. It has four gates which are unique because of beautiful decoration and painting. These four gates are dedicated to four Hindu deities whose small murtis (idols) installed over the lintels. North-West gate is dedicated to Lord Ganesh and leads to the women quarters (Zenana) of royal family. South-West gate is dedicated to Lord Shiva-Parvati which leads to a Shiv temple. North-East gate is dedicated to Lord Vishnu which leads to Sarvato Bhadra Chowk. South-East gate, the fourth gate, is dedicated to Devi (Goddess).
Mubarak Mahal
Mubarak Mahal is located at main entrance (Gate No. 1) of City Palace and in south from Sarvatobhadra Chowk. Rajendra Pol Gate connects the Sarvatobhadra chowk and Mubarak Mahal. Mubarak Mahal was constructed as a place to entertain foreign guests. Mubarak Mahal was converted into offices and presently serves as Textile Gallery of City Palace Museum to display clothes of Royal Family. Different variety of textile and clothes of Royal taste i.e. Sanganeri block print, Kashmiri Pashmina, Silk and Zari are displayed here. Beautiful stone carving work on all four gates of Mubarak Mahal are eye catching. One of the major attraction for tourists in this textile gallery is a Saree of 9 kg. weight of Maharani and voluminous cloths of Maharaja Sawai Madho Singh I.
Sileh Khana (Weapons Gallery)
A two storey building "Anand Mandir" is located in north-west from Mubarak Mahal. First floor of Anand Mandir is converted into Sileh Khana (Weapons Gallery). As the name suggests, Weapon gallery is a showcase of weapons used at war time, i.e. pistols, guns, gun powder flasks, arrows and bows, swords, knives, tiger knives, shields etc.
36 Karkhana (36 workshops)
Maharaja Sawai Jai Singh II established 36 Karkhana (36 workshops or 36 departments) for better maintenance of administration. It is located in West from Mubarak Mahal. 11 workshops are still in working condition and open for tourists for demonstration purpose. These 11 workshops are:-
| | | |
| --- | --- | --- |
| 1. Kapatdwara | 2. Surat khana | 3. Sileh Khana |
| 4. Farrash Khana | 5. Palki Khana | 6. Bagghi Khana |
| 7. Imarat | 8. Mistri Khana | 9. Naubat Khana |
| 10. Karkhana Punya | 11. Bagayat | |
Suggested Readings for Jaipur
---
Tags:
---
City Palace, City Palace Jaipur, Monuments in Jaipur, Hot spots for Jaipur Heritage Tour, Special Attractions in Jaipur Tour, Hotels, Cheap Flights, Holidays, Travel, Vacations, Trip Advisor, Things to do, India, Travel Agency, Air Tickets, Heritage, Jaipur, Travel Planner, Monuments, Rajasthan, Car Rentals, All Inclusive Packages, Photos, Images, Pictures, Jaipur the Pink City, jaipurthepinkcity.com
Choose Best Travel Plan

Our Trip Advisor and Travel Planner will analyze your requirements and will help build your travel itinerary and provide suggestions. It will SAVE your TIME and MONEY.
Comments
---