Holidays >> Travel >> Things to do >> India >> Rajasthan >> Jaipur >> Heritage >> Monuments >> Nahargarh Fort
Nahargarh Fort Jaipur
Nahargarh Fort, Forts in Jaipur, Monuments in Jaipur, Hot spots for Jaipur Heritage Tour, Special Attractions in Jaipur Tour, Hotels, Cheap Flights, Holidays, Travel, Vacations, Trip Advisor, Things to do, India, Travel Agency, Air Tickets, Heritage, Jaipur, Travel Planner, Monuments, Rajasthan
---
Nahargarh fort perched on a hill was constructed at the height of approx 700 feet by Sawai Jai Singh in 1734.
During the reign of Maharja Sawai Ram Singh II (1835-1880 A.D.) and Maharaja Sawai Madho Singh II (1880-1922 A.D.) marvelous residential palaces were constructed. The main palace of king known as "Madhavendra Bhavan" exists within the Fort. The two-storied palace is divided into nine similar apartments known as Suraj Prakash, Chand Prakash, Khushal Prakash, Anand Prakash, Jawahar Prakash, Laxmi Prakash, Ratna Prakash, Lalit Prakash and Basant Prakash. Each apartment is a double storied building which contains a lobby, bedroom, toilet, store, kitchen designed according to the needs of the royal family. This palace is an example of beautiful combination of Indian and European style of architecture.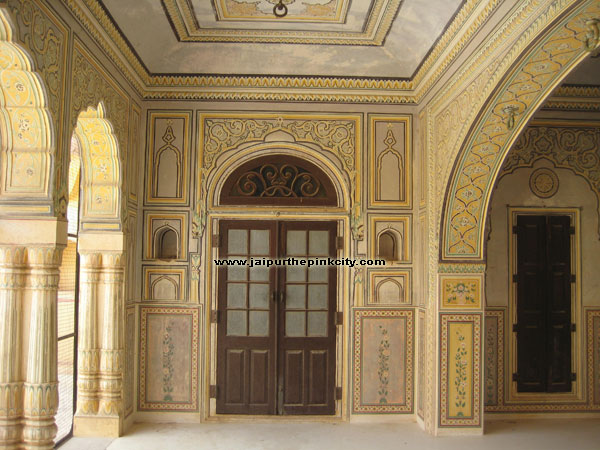 The entrance gate of the fort is known as Tadigate. On the left of Tadigate, the holy shrine of the deity of Jaipur rulers "Lord Sudershan" or "Govind Devji" exists. Initially, the fort was dedicated to him and named as "Sudershangarh".
As per some scholars of history, Sawai Jai Singh started the construction of Nahargarh fort near Jaigarh fort by the name of Sudershangarh. There was a place of regional deity Nahar Singh ji Bhomiya in the proposed territory of Sudershangarh (now Nahargarh) land. Because of construction of Sudershangarh, the peaceful holy place of Nahar Singh ji got disturbed, and hence the regional deity Nahar Singh ji Bhomiya started to create problems in construction of Sudershangarh fort from his spiritual powers. Sawai Jai Singh reported it to his spiritual guide Ratnakar Paundrik. Ratnakar Paundrik was a renowned expert of Tantra Vidya (system and technique for the attainment of super-human powers). Paundrik then started worship of Nahar Singh ji and made him happy from his spiritual endeavor. Paundrik also promised him to name the fort as Nahargarh instead of Sudershangarh after the name of Nahar Singh ji. Later on Paundrik built up a temple for Nahar Singh ji at Purana Ghaat, Agra Road, which is a divine place for Jaipurites and the centre of reverence. A small temple of Nahar Singh ji is still situated in Nahargarh fort, behind Madhvendra Palace where devotees come for worship regularly. Its amazing to visit Naharsingh ji temple of Nahargarh Fort Jaipur during Jaipur tour.
Suggested Readings for Jaipur
---
Tags:
---
Forts in Jaipur, Monuments in Jaipur, Hot spots for Jaipur Heritage Tour, Special Attractions in Jaipur Tour, Hotels, Cheap Flights, Holidays, Travel, Vacations, Trip Advisor, Things to do, India, Travel Agency, Air Tickets, Heritage, Jaipur, Travel Planner, Monuments, Rajasthan, Car Rentals, All Inclusive Packages, Jaipur the Pink City, jaipurthepinkcity.com
Choose Best Travel Plan

Our Trip Advisor and Travel Planner will analyze your requirements and will help build your travel itinerary and provide suggestions. It will SAVE your TIME and MONEY.
Comments
---