Holidays >> Travel >> Things to do >> India >> Rajasthan >> Jaipur >> Heritage >> Varahi Devi Temple Jaipur
Varahi Devi Temple Jaipur
Temple, Temples, Hindu Temples, Jaipur Temples, Varahi Devi Temple Jaipur, Jaipur Religious Tour, Indian Temples, Monuments in Jaipur, Hot spots for Jaipur Heritage Tour, Special Attractions in Jaipur Tour, Hotels, Cheap Flights, Holidays, Travel, Vacations, Trip Advisor, Things to do, India, Travel Agency, Air Tickets, Heritage, Jaipur, Travel Planner, Monuments, Rajasthan, Car Rentals, All Inclusive Packages
---
Mantra :
Om Ehi Parmeshwari swaha.
Varahi Devi is the feminine power or consort of Lord Varah, boar incarnation of Lord Vishnu. She wields chakra and sword. She has a face of Varah (sow, female wild boar). Varahi is considered in nine shaktis (powers) of Goddess Durga. The other eight are Brahmi, Maheshwari, Kaumari, Vaishnavi, Narsinghi, Aindri, Shivaduti and Chamunda. The temple was built approx. 900 years back by king of kacchawa kingdom. Later on two huge gates (one in front of temple and the other at right side of temple) known as "Varahi Gate" were built by King Bharmal. There is a legend about the temple that Once upon a time King Bharmal of Pink City Jaipur suffered from skin disease. When all treatments were failed then he worshipped Varahi Devi by offering split bengal gram (chana daal) in this temple and got rid of the disease completely. Since then devotees have firm believe in divine power of this temple, and they come here to get rid of various skin diseases. Its amazing to visit a 900 years old temple during Jaipur Tour because Varahi Devi Temple Jaipur has a great importance from the view point of Jaipur heritage tourism as well as Jaipur religious tourism.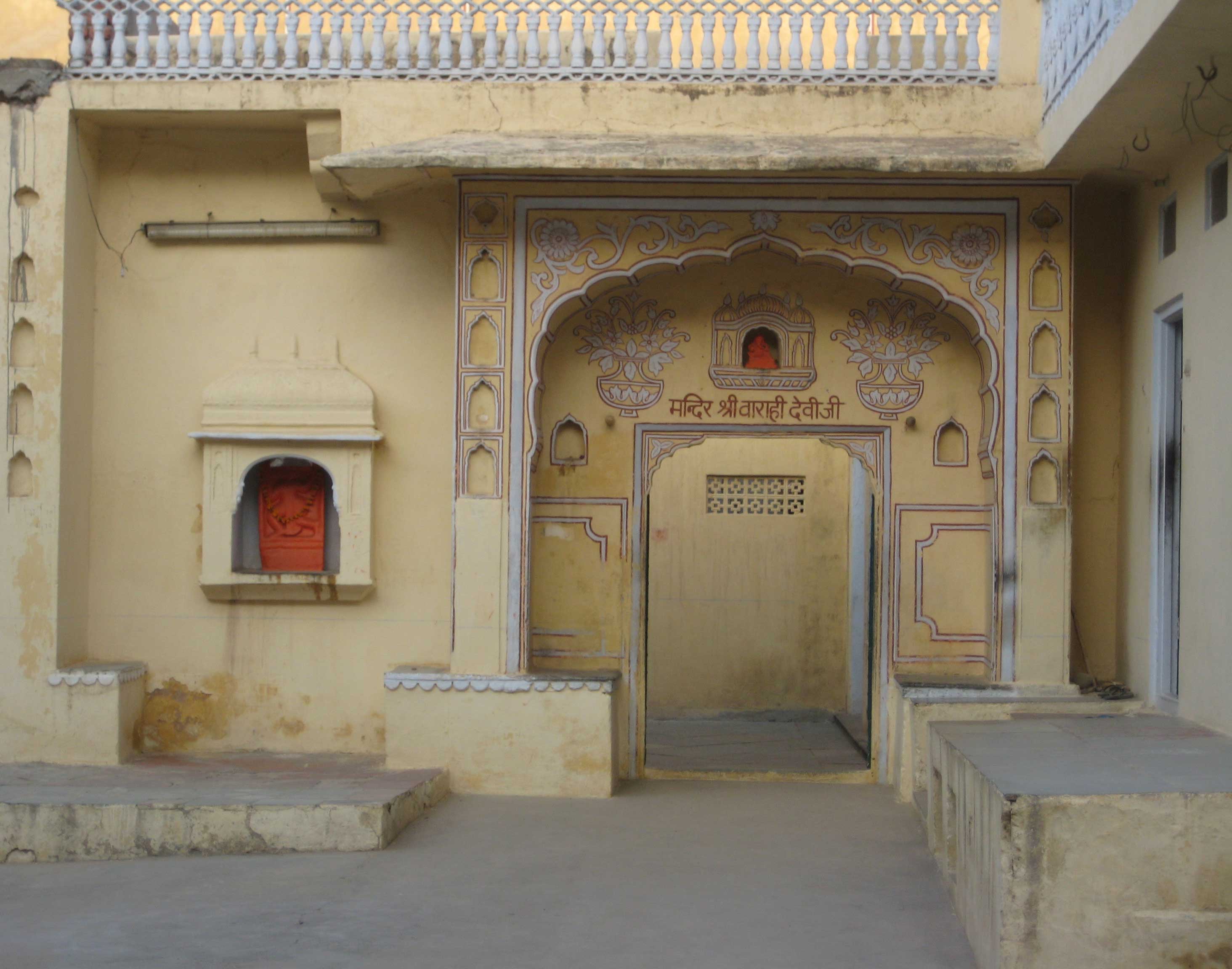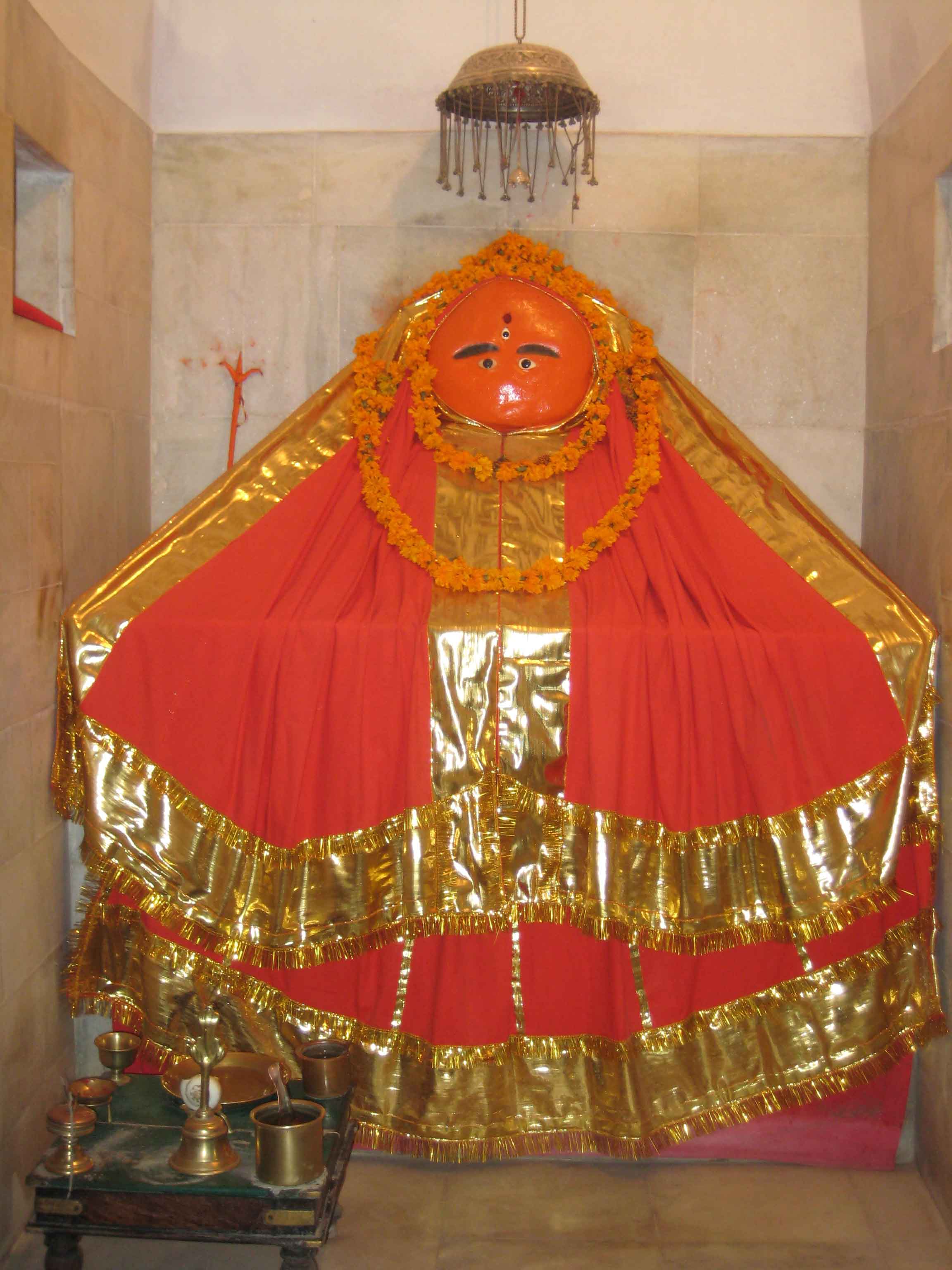 | | | |
| --- | --- | --- |
| Location | : | Varahi Devi Temple is located in Amber (Amer), Pink City Jaipur. It is situated at walking distance from Amber (Amer) bus stand. |
| Timings of Darshan | : | |
| | Morning Time : | 6:00 am to 12:00 noon |
| | Evening Time : | 4:00 pm to 8:00 pm |
Suggested Readings for Jaipur
---
Varahi Devi Temple Photos and Videos
Tags:
---
Temple, Temples, Hindu Temples, Indian Temples, Jaipur Temples, Varahi Devi Temple Jaipur, Monuments in Jaipur, Hot spots for Jaipur Heritage Tour, Special Attractions in Jaipur Tour, Hotels, Cheap Flights, Holidays, Travel, Vacations, Trip Advisor, Things to do, India, Travel Agency, Air Tickets, Heritage, Jaipur, Travel Planner, Monuments, Rajasthan, Car Rentals, All Inclusive Packages, Photos, Images, Pictures, Jaipur the Pink City, jaipurthepinkcity.com
Choose Best Travel Plan

Our Trip Advisor and Travel Planner will analyze your requirements and will help build your travel itinerary and provide suggestions. It will SAVE your TIME and MONEY.
Comments
---