Holidays >> Travel >> Things to do >> India >> Rajasthan >> Jaipur >> Heritage >> Birla Temple Jaipur
Birla Temple Jaipur
Birla Temple, Birla Mandir Jaipur, Birla temple photos, Birla temple videos, Temple, Jaipur, Hindu Temple, Temples, Hindu Temples, Jaipur Temples, Jaipur Religious Tour, Indian Temples, Monuments in Jaipur, Hot spots for Jaipur Heritage Tour, Special Attractions in Jaipur Tour, Hotels, Cheap Flights, Holidays, Travel, Vacations, Trip Advisor, Things to do, India, Travel Agency, Air Tickets, Heritage, Jaipur, Travel Planner, Monuments, Rajasthan, Car Rentals, All Inclusive Packages
---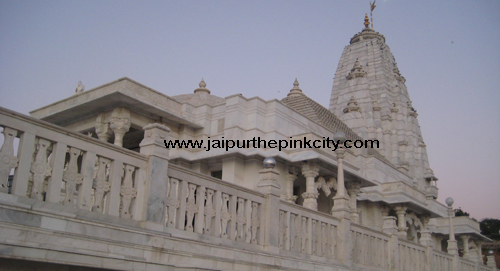 Jaipur is well known for best architecutre in India. Birla temple Jaipur is a very good example of this architectural intelligence. Birla temple was built by Birla gropup of Industries in 1988 below the Moti Doongri hill of Jaipur city. Birla temple is originally known as Laxmi Narayan Temple because the temple is dedicated to Lord Narayan (Vishnu) and his wife Goddess Laxmi. Birla temple is built with white marble stone.
Birla Temple is an important spot in Jaipur tour schedule because of architectural intelligence, fine carvings, lavish sculptures, mythological theme, walls painted by mythological events, museum and wonderful gardens. Beautiful sun set can also be observed from Birla Temple Jaipur.
| | | |
| --- | --- | --- |
| Location | : | Birla Temple is located below Moti Doongri Hill, JLN Marg, Jaipur. It is situated at walking distance from Moti Doongri Ganesh ji Temple. |
| Timing of darshan | : | |
| Morning | : | 8:00 am to 12:00 noon |
| Evening | : | 4:00 pm to 8:00 pm |
Suggested Readings for Jaipur
---
Tags:
---
Temple, Temples, Hindu Temples, Indian Temples, Jaipur Temples, Govind Dev ji Temple Jaipur, Krishna Temple, About Govind Dev ji Temple, About Govind Dev ji Idol, Govind Dev ji temple photos, Govind Dev ji temple videos, Monuments in Jaipur, Hot spots for Jaipur Heritage Tour, Special Attractions in Jaipur Tour, Hotels, Cheap Flights, Holidays, Travel, Vacations, Trip Advisor, Things to do, India, Travel Agency, Air Tickets, Heritage, Jaipur, Travel Planner, Monuments, Rajasthan, Car Rentals, All Inclusive Packages, Photos, Images, Pictures, Jaipur the Pink City, jaipurthepinkcity.com
Choose Best Travel Plan

Our Trip Advisor and Travel Planner will analyze your requirements and will help build your travel itinerary and provide suggestions. It will SAVE your TIME and MONEY.
Comments
---