Holidays >> Travel >> Things to do >> India >> Choolgiri Jain Temple
Choolgiri Jain Temple
Choolgiri Jain Temple, Jaipur, Travel, Hotels, Cheap Flights, Holidays, Vacations, Trip Advisor, Things to do, India, Rajasthan, Travel Agency, Air Tickets, Heritage, Travel Planner, Monuments, Car Rentals, All Inclusive Packages
---
Jaipur is surrounded by beautiful Aravali hills. Chulgiri Jain Temple in Jaipur is a worldwide famous Jain Temple situated on the aravali hills of Jaipur-Agra Road. During Jaipur visit, one can enjoy thrilling mountain trips along with Jaipur religious tour.
Jain acharya Shri Desh Bhoosan ji maharaj selected the hilly area on Jaipur-Agra road for his penance in year 1953. After few months, he decided to build a Jain temple on those hills. Acharya Shri Desh Bhoosan ji maharaj gave the name "Choolgiri" to those hills.
In April 1966, 7 feet high statue of white stone of Bhagwan Parshvnath, 3.5 feet high statues of Bhagwan Mahaveer swami and Bhagwan Neminath made of white stone were founded along with "Chaubisi" and "Jain Yantras". In the way of "Parikrama" (revolution around deity) around Bhagwan Parshvnath, statues of 24 Tirthankars and 4 idols of holy feet of Bhagwan (God) were founded. A small water tank made in temple to collect rain water for worship and ablution of deities.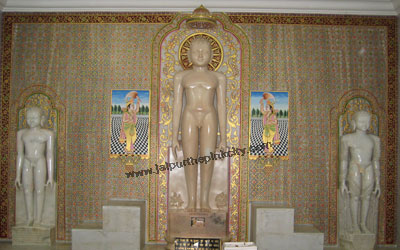 In May 1982, a Panch Kalyanak festival was organized in temple. That time, 21 feet high statue of white stone of Bhagwan Mahaveer Swami was founded in a huge area of 75 feet by 65 feet. A 60 feet high dome was also made to cover the statute.
Later on, statues of 24 Tirthankars of 2.25 feet height were also founded in a 40 feet by 40 feet cave of hill. This entire gallery is made of white marble stone. In the middle of the gallery, idols of Bhagwan Aadinath, Bhagwan Bharat, Bhagwan Bahubali, mother goddess Jwalamalini, and Chakreshwari were also founded in a separate hall.
A huge Jain Yantra of 4 feet by 4 feet size embossed on a copper plate of 40 Kg. weight was also founded on roof top of the temple. 6561 columns, vowels, consonants, mantras, swastik sign and many other holy symbols are embossed on the Yantra.
In April 2002, some idols of Jain Tirthankars were also founded in Chulgiri Temple which are made of precious and semi-precious stones. Art work of those idols and the hall is remarkable.
In recent years, a large water reservoir of 1.8 million liters storage capacity has been made in Chulgiri Jain Temple to collect the rain water.
Suggested Readings for Jaipur
---
Tags:
---
Choolgiri Jain Temple, Jaipur, Travel, Hotels, Cheap Flights, Holidays, Vacations, Trip Advisor, Things to do, India, Rajasthan, Travel Agency, Air Tickets, Heritage, Travel Planner, Monuments, Car Rentals, All Inclusive Packages
Choose Best Travel Plan

Our Trip Advisor and Travel Planner will analyze your requirements and will help build your travel itinerary and provide suggestions. It will SAVE your TIME and MONEY.
Comments
---