Holidays >> Travel >> Things to do >> India >> Jaipur >> Jaipur Architecture
Jaipur Architecture
Jaipur, Jaipur Architecture, About Jaipur, Jaipur India, Jaipur Rajasthan, Travel, Hotels, Cheap Flights, Holidays, Vacations, Trip Advisor, Things to do, India, Rajasthan, Travel Agency, Air Tickets, Heritage, Travel Planner, Monuments, Car Rentals, All Inclusive Packages
---
Jaipur architecture is world wide famous because of its technical details and beauty. Jaipur architecture is based on Indian Vastu concepts. Maharaja Sawai Jai Singh II - the founder of Jaipur was a great architect and astronomer. He also had a good knowledge of Indian Vastu. This is the reason that the architecture of Jaipur is a wonderful case study for the modern architects across the world.
Jaipur architecture includes all the Vastu principles and astronomical principles precisely so that Jaipur could be a prosperous and peaceful city. The town of Jaipur is built in the form of an eight-part "Mandala" known as the "Pithapada". The city was divided into nine blocks, of which two consist the state buildings and palaces, with the remaining seven allotted to the public. Huge fortification walls were made along with seven strong gates for the purpose of security of the city. Jaipur city is remarkable among pre-modern Indian cities for the width and regularity of its streets which are laid out into six sectors separated by broad streets of 111 ft. 111 is a holy number in Hinduism and hence considered lucky also. The commercial shops were designed in Jaipur in the multiples of nine (27), having one cross street for a planet. "Nine" signifies the nine planets of the ancient astrological zodiac, and twenty-seven signifies the 27 nakshatras. This architectural planning of Jaipur is on the basis of Indian Vastu and astronomy, and is the uniqueness of the architecture of Jaipur.
In Jaipur architecture, the urban quarters were further divided by networks of girded streets. Every street is connected to main road. Because of this sort of architecture of Jaipur, nobody can wander in the streets of Jaipur whether he is familiar with the paths or not. Further, the five quarters wrap around the east, south, and the west side of a central palace quarter, with a sixth quarter immediately to the east.
Now, Jaipur is clearly divided in two parts, an old "Four Wall City" and a new city; having 5 stars hotels, air port, railway junction, MNCs, internationally recognized colleges, shopping malls, hospitals etc. Architecture of new city is not as per Indian Vastu and astronomy, but the architecture of new Jaipur is based on modern architectural concepts. Its really amazing to have a walk in early morning in old city when traffic is not much and the old architecture of Jaipur can be seen and enjoy easily.
Jaipur Town Planning
---
In an era, when most of the Rajputs were busy in fighting with each other, for expanding their territories and/or to sustain; Jaipur's kings diplomatically broadened their jurisdiction maintaining good relations with the Mughals.
That time, almost all Northern Indian towns presented a chaotic picture of narrow twisting lanes, a confusion of run-down forts, temples, palaces, and temporary shacks that bore no resemblance at all to the principles set out in Hindu architectural manuals which call for strict geometric planning. As Maharaja Sawai Jai Singh II was a great astronomer and a town planner, he planned to design a town according to the principles of Hindu architectural theory with the Bengali architect Vidyadhar Bhatt (who was a Shaspati - Hindu Priest Architect), and it took shape as Pink City Jaipur. Jaipur is that's why considered by many urbanists to be one of the best planned cities.
Entrance Gates of Jaipur
---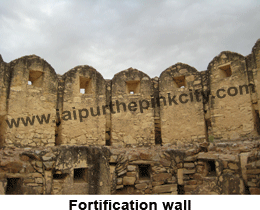 As it is discussing here that the architecture of Jaipur is based on Indian Vastu Shastra, so the principles of Indian Vastu and architecture are followed in every construction. Entrance gates of Jaipur are also not exceptional and certainly the direction, height, location etc. are all according to the Indian Vastu principles. In Jaipur, the directions of each street and market are East to West and North to South. No any street or market is in direction of West to East and South to North. As Maharaja Sawai Jai Singh was keen on the security aspect of the city, he constructed 20 feet high fortification walls to wrap the city all around, called "Parkota", and designed seven entry gates of Jaipur. The gates used to be closed at sunset and opened at sunrise. There are only three gates facing East, West, and North, while other gates face South. The Eastern gate of Jaipur is called Suraj (Sun) Pol (also known as Galta Gate), while the Western gate of Jaipur is called Chand (Moon) Pol and the Northern gate of Jaipur is known as Zorawar Singh gate (originally known as Dhruv Pol) which faces toward the ancestral capital of Amber. Other entry gates of Jaipur are known as Gangapol, Krishna Pol (now known as Ajmeri Gate), Ghat Gate (originally known as Ram Pol) and Sanganeri Gate (originally known as Shiv Pol).
Later, the eighth gate of Jaipur, New Gate was constructed by Maharaja Sawai Maan Singh at Chaura Rasta. This eighth gate was planned to design as per the architecture of Berlin. Former prime minister of Jaipur Riyasat, Sir Mirja Ismile, brought and studied lot many maps of the gates constructed in France and Berlin. Then the map was prepared by famous architect Lutiyans. It was almost decided to start the construction of New Gate (at the time of construction, the name was proposed Maan Pol, but denied by Maharaja Sawai Maan Singh); but Second World War started those days because of which it was postponed. After that, Maharaja Sawai Maan Singh again took initiative to construct "New Gate" and proposed in the committee of architects and astrologers to design it as according to the other gates of Jaipur Style rather than France or Berlin.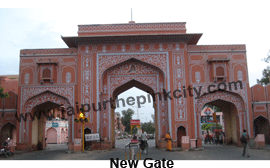 After the construction of "New Gate", "Sawai Maan Singh High-Way" was constructed to join Tripolia gate and air-port via New gate and Ram Niwas garden. Later on, when the statue of first Prime Minister of independent India was established in Ram Niwas garden, the name of the Sawi Maan Singh high-way was changed as Jawahar Lal Nehru Marg (shortly known as JLN marg).
Although, Jaipur is now expanded outside of its walls, but the original planning can still watch within the walls. This originally planned Pink City is also known as "Four-Wall-City" because it is wrapped by fortification walls all around and it still consists a beauty of old architecture of Jaipur.
Jaipur Architecture Photos
---
| | | |
| --- | --- | --- |
| Jaipur Architecture Photo - Albert Hall | Jaipur Architecture Photo - Cenotaph | Jaipur Architecture Photo - Fortification Wall |
Jaipur Architecture Videos
---
Jaipur Architecture Video - Watch the glimpses of hundreds years old Jaipur Architecture
Suggested Readings for Jaipur
---
Tags:
---
Jaipur, Jaipur architecture, About Jaipur, Jaipur History, Jaipur India, Jaipur Rajasthan, Travel, Hotels, Cheap Flights, Holidays, Vacations, Trip Advisor, Things to do, India, Rajasthan, Travel Agency, Air Tickets, Heritage, Travel Planner, Monuments, Car Rentals, All Inclusive Packages
Visitors Comments
---