Holidays >> Travel >> Things to do >> India >> Jaipur >> Jaipur: Get Around
Jaipur: Get Around
Jaipur, Jaipur: Get Around, Jaipur: How to Visit City, Jaipur Information, Jaipur India, Jaipur Rajasthan, Jaipur Travel, Jaipur Hotels, Jaipur Cheap Flights, Jaipur Holidays, Jaipur Vacations, Jaipur Trip Advisor, Jaipur Things to do, India, Rajasthan, Travel Agency, Air Tickets, Jaipur Heritage, Jaipur Travel Planner, Jaipur Monuments, Jaipur Car Rentals, Jaipur All Inclusive Packages
---
In Jaipur, blend of modern life style and old life style get to see. Jaipur is connecting through metro rail on the one hand, whereas on the other hand, cycle-rickshaw is still one of the popular local transport means in Jaipur. Local bus, car, auto-rickshaw are few of the other options for local transportation in Jaipur.
Jaipur: Get around by Jaipur Bus
---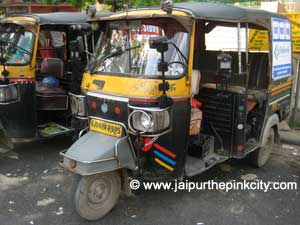 Jaipur Bus is the Jaipur City Transport Service offered by government of Rajasthan. Low floor buses with electronic ticketing facility run on the roads of Jaipur as the best and cheapest way to get around Jaipur. You can find the details of all the route maps and fares of the Jaipur Bus here.
Jaipur: Get around by RTDC Bus
---
R.T.D.C. Tours and Travels offers Daily Sight Seeing Tours in Jaipur by Non-A.C. Deluxe Buses/ Soft Top Canter/ Tata Sumo/ Soft Top Gypsy and provides Non-A.C. and A.C. Taxies, Deluxe Buses etc. There are three tour packages for Jaipur city tour by RTDC bus:-
Half Day Tour: It costs Indian Rupees 250 per person. RTDC buses are available for half day Jaipur tour at three time slots, i.e. 8:00 am to 1:00 pm, 11:30 am to 4:30 pm, 1:30 pm to 6:30 pm. Half day tour package offered by RTDC coveres Laxminarayan Temple (Birla Mandir), Central Museum (Albert Hall), Hawa Mahal (front view), Observatory (Jantar Mantar - the World Heritage Site), City Palace and Museum, Gaitore Cenetophs (front view), Amber fort and palace, Jal Mahal (front view).
Full Day Tour: It costs Indian Rupees 300 per person. Full day Jaipur tour offered by RTDC by bus starts at 9:00 am and will finish by 6:00 pm. Jaigarh fort, Nahargarh Fort (lunch on payment), Kanak Vrindavan Garden and Birla Planetarium (dropping as per tourist's desire) are also included in full day tour along with the places listed in half day tour.
Pink City by Night Tour: It costs Indian Rupees 375 per person. It includes transportation and veg. dinner at Nahargarh fort. Jaipur night tour starts by 6:30 pm and finish by 10:30 pm. Front view of Rajmandir Cinema Hall, Statue Circle, Amar Jawan Jyoti, Vidhan Sabha Bhawan, Laxminarayan temple (Birla Mandir), Central Museum (Albert Hall), Hawa Mahal, Amber Fort, Nahargarh fort, Jal Mahal and Kanak Vrindavan Garden will be shown in Jaipur night tour by RTDC bus.
Monument entrance, Camera fee and Jeep charges are extra in half day and full day tour. You can book your online tickets at Rajasthan Tourism Development Corporation Ltd. (Rajasthan Government Undertaking).
Jaipur: Get around by auto-rickshaw
---
Autorickshaw is very safe, comfortable and quickly available local transport in Jaipur. But, in terms of money, an autorickshaw is a good way to get around Jaipur only if you hire an autorickshaw from the prepaid booths or ask an autorickshaw driver to charge by meter. If you decide to hire autorickshaw without meter or without prepaid booth then your bragaining skills should be judged!
Jaipur: Get around by Radio Taxi
---
Radio taxi is also a very good way to get around Jaipur. This is on-call service. Once, when you call the taxi by phone, you will get a taxi's number so that when the taxi will reach to pick up, you can identify it easily. Radio taxi for getting around Jaipur is convenient because most of the vehicles used for taxi services in Jaipur are Maruti Omni Vans or Tata India cars.
Jaipur: Get around by Cycle-Rickshaw
---
You can enjoy street walk, glimpse of Jaipur Bazars, streets, old buildings, Havelis etc. by hire a cycle-rickshaw. It is advised to negotiate properly with cycle-rickshaw driver. Watching Pink City from cycle-rickshaw has its own pleasure and will give you lot of opportunities to click the amazing photographs of daily activities of Jaipurites.
Suggested Readings for Jaipur
---
Tags:
---
Jaipur, Jaipur: How to get around, Jaipur: How to visit city, Jaipur Information, Jaipur India, Jaipur Rajasthan, Jaipur Travel, Jaipur Hotels, Jaipur Cheap Flights, Jaipur Holidays, Jaipur Vacations, Jaipur Trip Advisor, Jaipur Things to do, India, Rajasthan, Travel Agency, Air Tickets, Jaipur Heritage, Jaipur Travel Planner, Jaipur Monuments, Jaipur Car Rentals, Jaipur All Inclusive Packages
Visitors Comments
---