Holidays >> Travel >> Things to do >> India >> Jaipur >> Hotel at Jaipur >> Chokhi Dhani
Hotel at Jaipur - Chokhi Dhani
Hotel at Jaipur, Cheap Hotel at Jaipur, Budget Hotel at Jaipur, Details of Hotel at Jaipur, Book Hotel at Jaipur, Hotel in Jaipur, Hotel Jaipur, Jaipur Hotel, Jaipur in Hotel, Hotels at Jaipur, Hotels in Jaipur, Hotels Jaipur, Hotels of Jaipur, Jaipur Hotels
---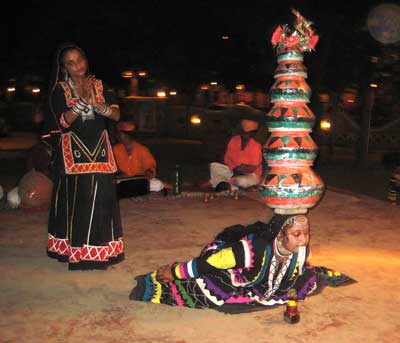 Chokhi Dhani is an ideal place for a perfect vacation or a business meeting or a royal wedding. It has multiple facilities fulfilling all the needs of its esteemed guests, especially those that are needed to make a guests' stay, a memory. Its quest for continuous improvement in terms of quality services & standards assures the guests that their comfort is in right hands. Chokhi Dhani Resort, literally meaning the "Fine Hamlet", is a 5 star ethnic village resort - the only one of its kind in the country.
Embedded with the richness and variety of Rajasthani culture is Kotri, the Lobby. It brings a churn of the ethnicity that lies in Rajasthan, mud plastered walls, paintings, murals, beautifully carved furniture and artifacts.
The accommodation at the resort comprises 59 double occupancy Cottages, 33 Royal Cottages and 8 Haveli Suites. All are spacious, air-conditioned, with attached washrooms, running hot & cold water, telephone, in-room safe, teakettle, mini bars, etc. Richly and tastefully adorned with ethnic decor, they offer all comforts of a 5 star hotel plus the unique ambiance.
Hotel Chokhi Dhani : Facilities
---
Chokhi Dhani of Jaipur offers quality facilities and distinctive services to the guests, which include:
Special Services:
Traditional welcome with Aarti, Tikka, Shehnai and Nagada
Everyday village fair with lots of rides, dances, games & activities
Special Rajasthani cuisine served with 'manuhaar'
All round Rajasthani decor & culture
Special arrangement for royal weddings and theme parties
Business Services
Audio-visual equipment for meetings/conferences
Business center with copier/fax
Wi-fi internet connectivity and e-mail facilities
Secretarial services
Resort Facilities
24-hour Front Desk
Health club & Spa
Steam & Sauna baths, Jacuzzi & Gym
Business center & conference facilities
Banquet hall with special lights & DJ setup
Recreational center - Pool room, Tennis court, Virtual Reality games, Air-hockey
Children gaming zone - Jungle theme, mini slides & simulation games
Barber shop & Beauty Salon
Baby-sitting arrangements
Car hire & Travel assistance
Same day laundry services
Postal/Parcel services
Currency Exchange
Doctor on call
Hotel at Jaipur : Chokhi Dhani - Contact Details
---
12 Miles Tonk Road, Via Vatika Jaipur (Rajasthan)
Ph.: +91 141 516 5000. web: www.chokhidhani.com
Suggested Readings for Jaipur
---
Tags:
---
Hotel at Jaipur, Cheap Hotel at Jaipur, Budget Hotel at Jaipur, Details of Hotel at Jaipur, Book Hotel at Jaipur, Hotel in Jaipur, Hotel Jaipur, Jaipur Hotel, Jaipur in Hotel, Hotels at Jaipur, Hotels in Jaipur, Hotels Jaipur, Hotels of Jaipur, Jaipur Hotels
Hotel at Jaipur: Visitors Comments
---