Holidays >> Travel >> Things to do >> India >> Jaipur >> Hotel at Jaipur >> Jai Mahal Palace
Hotel at Jaipur - Jai Mahal Palace
Hotel at Jaipur, Cheap Hotel at Jaipur, Budget Hotel at Jaipur, Details of Hotel at Jaipur, Book Hotel at Jaipur, Hotel in Jaipur, Hotel Jaipur, Jaipur Hotel, Jaipur in Hotel, Hotels at Jaipur, Hotels in Jaipur, Hotels Jaipur, Hotels of Jaipur, Jaipur Hotels
---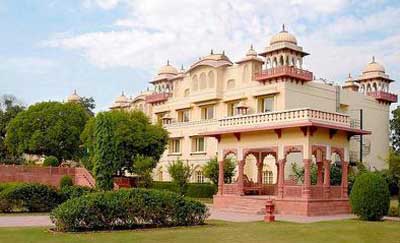 Hotel Jai Mahal Palace at Jaipur is one of the best hotels in Jaipur. This hotel is set amidst 18 acres of beautifully landscaped Moghul gardens. The palace dates back to 1745 A.D.
The hotel is 5 star hotel (deluxe hotel) and a masterpiece of the architectural excellence.
Hotel Jai Mahal Palace of Jaipur is located on Jacob road, one of the posh areas of Jaipur. The hotel is close to the main shopping center and historical monuments which is advantageous for tourists.
Hotel Jai Mahal Palace : Facilities
---
Hotel Jai Mahal Palace of Jaipur offers quality facilities and distinctive services to the guests, which include:
24-hour Front Desk
Banquet Facility
Bell-Desk Services
Laundry Services
Spa facilities
Postal/Parcel Services
Safe Deposit Lockers
Yoga Sessions every morning
Travel Desk
Book Shops
Car Rentals
Currency Exchange
Barbershop & Beauty Salon
Babysitting Arrangements
Health Club
Halal
Shopping Arcade
Parking
Doctor (On Call)
Astrologer (On call)
Hotel Jai Mahal Palace also offer Business services to the guests at Jaipur. Business services include:
Audiovisual equipment
Business Centre with copier/fax
Internet and email facilities
Secretarial services
Meeting Rooms & Banquet Facilities at Hotel Jai Mahal Palace include:
Lawn and garden areas can accommodate up to 2000 persons for evening functions.
One conference hall and two board rooms can accommodate from 10 to 150 guests auditorium-style or 200 guests for cocktails and receptions at the conference hall.
Catering is available for breakfast, lunch, dinner, meeting breaks and cocktail parties.
Hotel at Jaipur : Jai Mahal Palace - Contact Details
---
Jacob Road, Civil Lines, Jaipur- 302 006.
Ph.: +91 141 2223636. web: www.tajhotels.com
Suggested Readings for Jaipur
---
Tags:
---
Hotel at Jaipur, Cheap Hotel at Jaipur, Budget Hotel at Jaipur, Details of Hotel at Jaipur, Book Hotel at Jaipur, Hotel in Jaipur, Hotel Jaipur, Jaipur Hotel, Jaipur in Hotel, Hotels at Jaipur, Hotels in Jaipur, Hotels Jaipur, Hotels of Jaipur, Jaipur Hotels
Hotel at Jaipur: Visitors Comments
---