Holidays >> Travel >> Things to do >> India >> Jaipur >> Hotel at Jaipur >> ITC Rajputana
Hotel at Jaipur - ITC Rajputana
Hotel at Jaipur, Cheap Hotel at Jaipur, Budget Hotel at Jaipur, Details of Hotel at Jaipur, Book Hotel at Jaipur, Hotel in Jaipur, Hotel Jaipur, Jaipur Hotel, Jaipur in Hotel, Hotels at Jaipur, Hotels in Jaipur, Hotels Jaipur, Hotels of Jaipur, Jaipur Hotels
---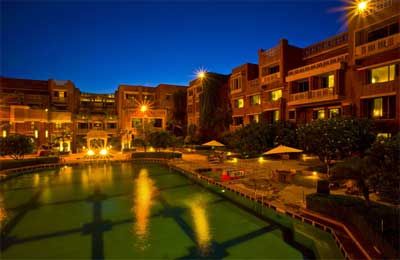 Hotel ITC Rajputana is one of the finest 5 star hotels in Jaipur with 218 guest rooms. ITC Rajputana hotel offer the best accommodations in Jaipur with a host of comforts and services in settings that reflect the spirit of Rajasthan and its royalty.
The ITC Rajputana is 5 star business hotel with a unique concept of accommodation in the heart of Jaipur (Rajasthan). ITC Rajputana reflects everything that is splendid about Rajasthan and all that is unique about ITC Hotels.
Designed to echo the traditional havelis of the region, ITC Rajputana has a red brick exterior rising to different levels around a central area. Long corridors, secluded courtyards and simplified lattice work recall Rajasthani architecture in a modern uncluttered and contemporary idiom and bring alive the spirit of Rajasthan and makes it distinguished amongst the luxury hotels of Jaipur. Discover all that Rajasthan has to offer while staying at the ITC Rajputana.
Hotel ITC Rajputana : Facilities
---
Hotel ITC Rajputana of Jaipur offers quality facilities and distinctive services to the guests, which include:
24-hour Front Desk
Banquet Facility
Bell-Desk Services
Laundry Services
Spa facilities
Postal/Parcel Services
Safe Deposit Lockers
Travel Desk
Car Rentals
Currency Exchange
Parking
Hotel ITC Rajputana also offer Business services to the guests at Jaipur. Business services include:
Audiovisual equipment
Internet and email facilities
Meeting Rooms & Banquet Facilities at Hotel ITC Rajputana include:
9300 square feet of banqueting space including three private boardrooms.
Conferencing Room.
Catering is available for breakfast, lunch, dinner, meeting breaks and cocktail parties.
Hotel at Jaipur : ITC Rajputana - Contact Details
---
Palace Road, Jaipur- 302 006
Ph.: +91 141 5100 100. web: www.itchotels.in/hotels/itcrajputana/overview.aspx
Suggested Readings for Jaipur
---
Tags:
---
Hotel at Jaipur, Cheap Hotel at Jaipur, Budget Hotel at Jaipur, Details of Hotel at Jaipur, Book Hotel at Jaipur, Hotel in Jaipur, Hotel Jaipur, Jaipur Hotel, Jaipur in Hotel, Hotels at Jaipur, Hotels in Jaipur, Hotels Jaipur, Hotels of Jaipur, Jaipur Hotels
Hotel at Jaipur: Visitors Comments
---