Holidays >> Travel >> Things to do >> India >> Jaipur >> Hotel at Jaipur >> RamBagh Palace
Hotel at Jaipur - RamBagh Palace
Hotel at Jaipur, Cheap Hotel at Jaipur, Budget Hotel at Jaipur, Details of Hotel at Jaipur, Book Hotel at Jaipur, Hotel in Jaipur, Hotel Jaipur, Jaipur Hotel, Jaipur in Hotel, Hotels at Jaipur, Hotels in Jaipur, Hotels Jaipur, Hotels of Jaipur, Jaipur Hotels
---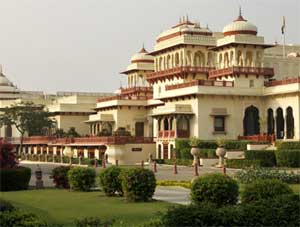 Rambagh Palace is a living legend in Jaipur. Built in 1835 on a modest scale for the queen's favourite handmaiden Kesar Badaran, and later refurbished as a royal guesthouse and hunting lodge, the mansion was renamed Rambagh, after the then reigning Maharaja Sawai Ram Singh II.
Rambagh remained the home of Jaipur's Royalty until 1957, when it was first converted into an upscale hotel that they continued to manage. In 1972, with its legacy of hospitality, Taj Hotels Resorts and Palaces was the perfect choice to carry on the royal tradition of the luxurious Rambagh Palace. Over the years Rambagh has played gracious host to several illustrious guests, such as Lord Louis Mountbatten, (who gave his name to a suite), Prince Charles, Jacqueline Kennedy and many other luminaries.
Hotel Rambagh Palace offers 79 rooms and stunningly restored suites, which were the chambers of the former Maharaja.
Hotel RamBagh Palace : Facilities
---
Hotel RamBagh Palace of Jaipur offers quality facilities and world class services to the guests, which include:
24-hour Front Desk
Banquet Facility
Bell-Desk Services
Laundry Services
Spa facilities
Postal/Parcel Services
Safe Deposit Lockers
Travel Desk
Car Rentals
Currency Exchange
Parking
Hotel Rambagh Palace also offer Business services to the guests at Jaipur. This include:
Hotel at Jaipur : RamBagh Palace - Contact Details
---
Bhawani Singh Road, Jaipur - 302 005
Ph.: +91 141 2211919. web: www.tajhotels.com
Suggested Readings for Jaipur
---
Tags:
---
Hotel at Jaipur, Cheap Hotel at Jaipur, Budget Hotel at Jaipur, Details of Hotel at Jaipur, Book Hotel at Jaipur, Hotel in Jaipur, Hotel Jaipur, Jaipur Hotel, Jaipur in Hotel, Hotels at Jaipur, Hotels in Jaipur, Hotels Jaipur, Hotels of Jaipur, Jaipur Hotels
Hotel at Jaipur: Visitors Comments
---