Holidays >> Travel >> Things to do >> India >> Jaipur >> Jaipur: What to Buy
Jaipur: What to Buy - Jaipur: Art and Crafts
Jaipur, Jaipur: What to Buy, Jaipur: Art and Craft, Jaipur: Miniature Paintings, Jaipur: Wall Paintings, Jaipur: Blue Pottery, Jaipur: Stone Carving, Jaipur: Wooden Handicraft, Jaipur: Metal art, Jaipur: Handicraft work on Camel Leather, Jaipur: Lacquer items, Jaipur: Gems and Jewellery, Jaipur: Saree (traditional wear of Indian women), Jaipur: Hand Made Puppets, Jaipur: Block printed bed sheets (hand work), Jaipur: Bandhej (Tie and Dye fabric)
---
Jaipur is expert and master of art and craft. Jaipur not only preserved ancient art and craft, but also bestowing this royal and beautiful art worldwide.
In order to make Jaipur city a commercial art and craft hub, Maharaja Sawai Jai Singh II invited numerous experts of various arts and crafts from different corners of India, facilitated them to reside here, and honored them with land, money and daily needs; so that they can shape their art. That's why, today, Jaipur is renowned for its Miniature Painting art, Wall Painting art, Blue Pottery art, Stone Carving art, Wooden Handicraft, Metal art, Handicraft work on Camel Leather, Lacquer items, Gems & Jewellery art, Saree (traditional wear of Indian women), Hand Made Puppets art, Block printed bed sheets (hand work), Bandhej (Tie and Dye fabric), and other Handicraft work.
Jaipur Jewelry Art
---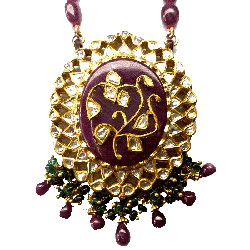 Jaipur is a remarkable name on the globe as largest exporter of Gold, Diamond and Stone Jewelry in Asia. Jaipur jewelry markets are one of the biggest jewelry markets in India.
As Rajputs' were very fond of jewelry, the jewelry business established and nourished in Jaipur during the reign periods of Rajput rulers. Especially, during the reign period of Sawai Jai Singh II, Jaipur became the central hub of India for jewelry of precious and semi-precious stones as well as for remarkable gold and silver work. Jaipur city is now renowned globally for cutting, finishing, carving and polishing the precious and semi-precious stones used in large variety of Jaipuri Jewelry. Jaipur is the only city finishing Tanzanite (blue diamond) in the world.
Meenakari and Kundan work are the world famous techniques used in Jaipur jewelry.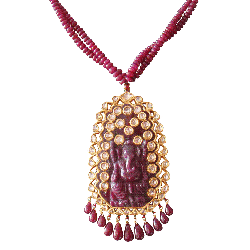 Jaipur Kundan work
Kundan work is art of setting stone in gold and silver.
Jaipur Meenakari work
Meenakari is a technique to enamel jewelry so that the stones do not come out easily and also the jewelry does not get stuck in cloths.
Although jewelry shops are found all over Jaipur, yet Johri Bazaar is the dedicated jewelry market for jewelry shopping during Jaipur tour.
Jaipur Lacquer Art and Craft
---
Maharaja Ram Singh, Ruler of Jaipur originated lacquered art in Jaipur in 18th century. Lacquer is a type of varnish made from sap of Asian Lac Tree. At high temperatures it becomes soft like dough, and at low temperatures it becomes hard again. Because of this unique characteristic, lacquer can be easily shaped into any form. In Jaipur, lacquer is used to make jewelry and handicraft items and it is also used in enameling other kind of artworks. Colors are added to lacquer by mixing pigments to create beautiful decorative designs. World famous Jaipuri Nakkashi or pattern work is the special style of decoration of lacquer artwork and lacquer jewelry.
Jaipur: Lacquer Bangle Manufacturing Video
---
Jaipur has a renowned name worldwide as a major supplier of lacquer art work. Although lacquer article shops are found all over Jaipur, yet Maniharon Ka Rasta is the dedicated lacquer articles manufacturing and selling market for lacquer articles shopping during Jaipur tour.
Jaipur Sarees
---
Jaipuri Bandhej Sarees (Sarees of tie and dye work), Jaipuri block print sarees, Jaipuri Leharia Sarees and Jaipuri Hand Embroidery Sarees are world famous.
Jaipuri Bandhej or tie and dye work: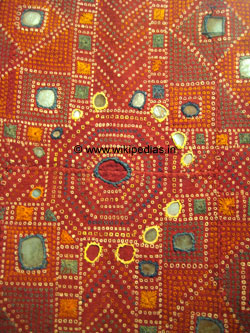 Tie-dyeing is a technique of resist dying of clothes/textile in which the material (textile or cloth) is folded into a specific pattern, and bound with string or rubber bands. Dye is then applied to only specific parts of the material. This way dye is not applied on entire material, but is applied to only specific areas. Specific designs on fabric are formed by applying different colors of dyes to different sections of the wet fabric.
Jaipuri Block Printing:

For block printing, wooden patterns of specific designs are made. These patterns are dipped into dye and pressed against the fabric to print the pattern.
Jaipuri Leharia:
Leharia is a specific patterns of waves like waves of ocean. Ladies of Jaipur wear Sarees of Leharia design during festival seasons. Especially on Teej festival, almost every lady wear Leharia saree in Jaipur.
Jaipuri Hand Embroidery:
Beautiful and colorful artistic designs are created with hand embroidery technique. Cotton, silk, gold and silver threads are used for embroidery. When gold and silver threads are used with cotton or silk thread, the embroidery is called as Jari Work. An excellent example of Jari Work is Saree of Queen of Jaipur displayed in Mubarak Mahal, City Palace Jaipur.
Bapu Bazar is exclusive market for Jaipur Sarees shopping during Jaipur Tour.
Jaipur Puppets (Kathputli)
---

Jaipur Puppets and Puppet Shows are world famous as a popular form of folk art. Jaipuri Puppet is made of cloth and wood. The face is made of wood and rest of the body is made of cloth. Strings are tied on various parts of puppets for smooth movements. The puppeteer loops the ends of these strings in hands and fingers and give desired movements to make the puppet dance, walk, jump etc.
Kathputli Nagar is the place where these puppets are made in Jaipur. During Jaipur tour one can purchase Puppets from Kathputli Nagar and shops near Hawa Mahal.
Jaipur Metal Art
---
Jaipur art and craft includes a wide range of metal work. Jaipur is predominantly famous for its koftagari, brass engraving, bronze art and lacquering work.
Koftgari Art :

Koftgari is an overlay art in which thick gold or silver wires are pressed by special tool, after that it is heated and pressed by a polished stone. This way, a coat of artistic design of one metal is applied on another in the form of wire.
Brass Engraving Art :
Jaipur is big exporter of brass engraving statues and decorative items. Brass engraving is a process of etching surface of brass article with a special tool to create a design i.e. floral patterns, scenes etc. Artisans of Jaipur are expert in brass engraving work.
Lacquering Art :
Surface of an item is coated with beautiful lacquer designs. Lacquer designs may cover the whole body or a particular part of the item.

Bronze Art :
Jaipur has expertise in making bronze sculptures, swords, shields etc.
Jaipur Sanganeri Block Print Art
---
Sanganer, Jaipur is the only export hub of Sanganeri Hand Block Print fabrics. Hand blocks of particular pattern designs are made by wood and the artisan print the beautiful design on cotton cloth manually with natural colors. Beautiful folk designs, floral patterns with fragrance of natural colors makes it heart winning fabric.
Jaipur Lather Art and Craft
---
Jaipur's leather art and craft is popular all over the world. Hand made leather shoes, hand-bags, vases, purses, painted lampshades, belts, hats, shields, stools and collapsible chairs made in Jaipur are famous worldwide.

Jaipur leather shoes are famous because of ethnic designs and Kashida work on shoes. These shoes are known as Mojari or Jaipuri Jooti. In addition to royal and ethnic designs, these Mojaris are very comfortable to wear and the most unique feature is the temperature inside Mojari maintains almost equal to body temperature. Due to this unique feature of Mojari, it can wear in all seasons.
Jaipur Blue Pottery Art and Craft
---
Jaipur Blue Pottery is made of Egyptian Paste. The blue glaze on pottery is made of Multani Mitti. Mostly Jaipur blue pottery is decorated with animal and bird motifs. Jaipur blue pottery is very fragile because it is low-fired. Jaipur is now the biggest centre of Blue Pottery manufacturing.
Jaipur Miniature Paintings Art
---
Jaipur Miniature paintings are painted by natural colors, powder of elephant teeth, powders of precious metals like gold and silver and powders of precious and semi precious stones. Hence colors of miniature paintings never fades with the age which makes them everlasting.
Jaipur Marble Art and Craft
---

Marble handicraft of Jaipur has high demand in global market. Jaipur is expert to make any kind of shape and object with marble stone. Most amazing designs are artistic mesh surfaces in three dimensional marble objects like elephant, flower pot, box, pen stand etc.
Jaipur is no doubt a paradise for marble handicraft shopping during Jaipur Tour. Amber market is the dedicated market for shopping beautiful Jaipur marble art and craft items.

Marble statues of Jaipur is also famous globally. Jaipur is the leading exporter of marble statues and sculptures. One can easily watch the artisans to craft the religious statues, figurative human sculptures and other sculptures in Khezron ka Rasta. Most of the sculpture work is still chiseling work performed by skilled artisans in Jaipur.
Jaipur Wooden handicraft
---
Jaipur is leading exporter of wooden handicraft. Wooden handicraft includes making awesome articles, interior decoration items, furniture and engraving work on wood.
Jaipur is major wooden handicraft exporter in world.
Jaipur Carpets
---
Jaipur is the largest manufacturer of hand knotted wool carpets, hand knotted silk carpets, hand tufted carpets, natural fibers carpets, shags, durries etc.
Jaipur's most popular hand knotted wool carpets are made with New Zealand wool and rich natural colors by the hands of master artisans which fascinates rooms all over the world.
Luxurious hand knotted silk carpets are made with 60% silk and 40% New Zealand wool. Luxurious and rich designs, worm tones with inviting colors and grace for any environment are created with combination of silk and wool.
Hand tuft carpets are made with New Zealand wool. Each strand of yarn is hand-spun and hand-twisted to create a unique touch.
Natural fiber carpets are made of durable, lightweight and insulting "Natural Jute". Carpets are woven by hand, no machine is used.
Jaipur wool shags made with 75% of finest quality wool and 25% natural cotton are very rich in designs, and have exceptional level of softness and comfort.
Jaipur Durries are made of 100% cotton and are hand woven. A particular design is given by twisting 5 or 6 strands of specific dyed wool yarn.
Jaipur Quilts
---
Jaipur quilts (Jaipuri Rajai) are made of very thin layer of cotton and are capable to prevent totally the flow of cool air and keeps the wearer warm. Jaipur quilts are extremely light weight quilts having weight as low as 250gm. These very soft and cozy quilts are surprisingly very warm in spite their weight. Beautiful silk or cotton outer cover of quilts with Rajasthani prints in natural colors gives natural feeling.
Jaipur Terracotta and pottery
---

Terracotta is a baked clay based art. A large variety of figurines, sculptures, articles for daily need (i.e. water pots, Diya etc.) and many decorative items prepare by artisans from clay in Jaipur. Generally Jaipur terracotta articles used in natural orange, brownish color. Terracotta unglazed tiles of Jaipur are also very famous which are used for interior decoration of home, offices and hotels.
Suggested Readings for Jaipur
---
Tags:
---
Jaipur, Jaipur: What to Buy, Jaipur: Art and Craft, Jaipur: Miniature Paintings, Jaipur: Wall Paintings, Jaipur: Blue Pottery, Jaipur: Stone Carving, Jaipur: Wooden Handicraft, Jaipur: Metal art, Jaipur: Handicraft work on Camel Leather, Jaipur: Lacquer items, Jaipur: Gems and Jewellery, Jaipur: Saree (traditional wear of Indian women), Jaipur: Hand Made Puppets, Jaipur: Block printed bed sheets (hand work), Jaipur: Bandhej (Tie and Dye fabric)
Visitors Comments
---