Jaipur >> Jaipur Photos >> Kite Festival in Jaipur
Jaipur Photos: Kite Festival in Jaipur
Kite Festival Jaipur Photo
---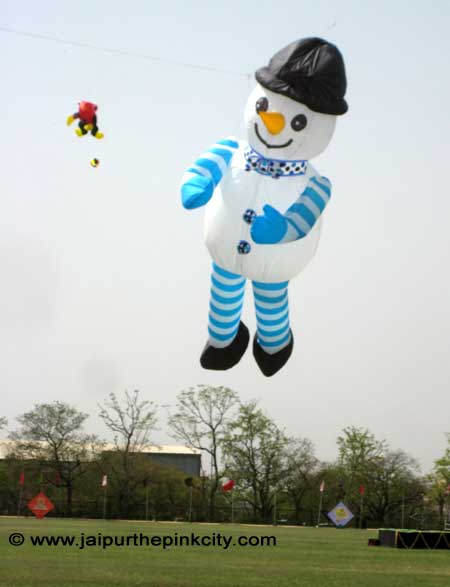 Jaipur Photos : International Kite Festival
---
In this photo, you are watching a huge kite of approx. 40 feet height in the shape of snowman. This kite was flying in the International Kite Festival 2012 in Jaipur. The photo was taken on March 28, 2012.
Kite flying is not only the tradition in Jaipur but Kite flying is a passion for Jaipur. January 14 of every year is celebrated as Makar Sankranti in Jaipur with flying the kites. Entire Jaipur flies kites on this day. Business of kites, threads, spindles and other accessories related to flying the kites is of billions of Indian rupees in Jaipur. Kites also export from Jaipur to the whole world.
Special tours for Jaipur get booked every year in a large number for Makar Sankranti. Thousands of foreign tourists visit Jaipur every year to enjoy kite festival.
You can read about Jaipur in detail here. Join us at Facebook for updates. Watch exclusive videos of Jaipur at Youtube.
You can also book flights, hotels and travel packages for anywhere from this page.
---
Tags:
Kite Festival Photo Jaipur
Jaipur Events Photo : Comments
---