Holidays >> Travel >> Things to do >> India >> Agra >> Agra Travel Information
Agra Travel Information
Agra, About Agra, Taj Mahal, Agra Information, Agra India, Agra Travel, Agra Hotels, Agra Cheap Flights, Agra Holidays, Agra Vacations, Agra Trip Advisor, Agra Things to do, India, Travel Agency, Air Tickets, Agra Heritage, Agra Travel Planner, Agra Monuments, Agra Car Rentals, Agra All Inclusive Packages
---
Agra is well known for Taj Mahal - one of the seven wonders of the world. Agra city is situated on the banks of the holy river Yamunua in Uttar Pradesh, India. Agra is known as the capital of the Mughal emperors because the Mughals ruled Agra for long time, i.e. between 1556 and 1658. Agra is one of the major tourist destinations of India and the one vertex of golden triangle of Indian tourism, i.e. Delhi-Jaipur-Agra. Agra has three World Heritage Sites listed by UNESCO, which are Taj Mahal, Agra Fort and Fatehpur Sikri.
Though Agra is mostly recognized for Mughal empire and Taj Mahal but the references of Agra are also mentioned in the epic of Mahabharata according to which Agra has linkages with 1000 BC.
Agra is also known as the birthplace of the religion known as Din-e-ilahi and of the Radhaswami Faith.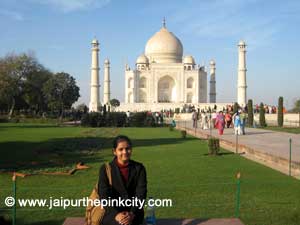 Agra History
---
It is believed that Agra founded by Raja Badal Singh, a Sikarwar Rajput King (circa 1475). Sultan Sikandar Lodi was the first emperor who moved his capital from Delhi to Agra in 1506. Ibrahim Lodi, son of Sikandar Lodi was crowned on the throne of Agra in 1517 after the death of Sikandar Lodi. Ibrahim Lodi ruled Agra for nine years. Ibrahim Lodi then defeated and killed at the Battle of Panipat in 1526 by Babur. Agra was then ruled by Mughal emperors for more than 100 years, from 1556 to 1658.
Cheap Flights for Agra
---
Find cheap flights for Agra and save money! Cheap flights give you an opportunity to save money from a major part of your travel budget which you can spend on other activities i.e. shopping, sight scene etc. or otherwise simply cut down your travel cost! Book Cheap Flights for Agra here
Agra Hotels
---
Hotel booking in advance is always preferable for comfortable stay while you travel from one place to another. Agra has a one wonder of the world - Taj Mahal, so you will find the rush of travelers round the year in Agra, but also find a wide range of hotels in Agra. You can choose luxury hotels, cheap hotels, heritage hotels, deluxe hotels, economy hotels as per your budget and requirement. Book Hotel at Agra
Agra : How to Get In
---
Agra is very well connected with major cities of India via plane, train and road ways.
By Plane:
You can find the flights for Agra from Delhi and Jaipur in a way that you can plan your Golden Triangle's tour (Delhi-Agra-Jaipur) in easy manner.
By Train:
Being a tourist hub because of Taj Mahal, you can find trains for Agra from all the major cities of India. Agra is well connected by train with Delhi and Jaipur as the frequent trains are available.
The luxury train "Palace on Wheels" also stops at Agra on its eight day round trip of tourist destinations in Agra and Rajasthan.
By Bus:
There are frequent buses for Agra from Delhi and Jaipur. Agra is also connected with some major cities of India by bus. You can easily find the buses to and from Agra for the various cities of India.
By Taxi:
Yamuna expressway is a 6-lane controlled-access expressway, connecting Greater Noida to Agra. It is a 165 km long expressway. It is formally inaugurated on August 9, 2012. Delhi-Agra travel time reduced dramatically after starting this Yamuna expressway.
If you are travelling on Agra-Jaipur route by taxi, then you can also enjoy bird sanctuary of Bharatpur, Rajasthan.
Agra : What to See
---
Taj Mahal, Agra fort, Sikandara, Itmad-Ud-Daulah's Tomb, Mariam's Tomb, Jama Masjid, Chini ka Roza, Balkeshwar Temple, Kailash Temple, Mankameshwar Temple, Prithvinath Temple, Rajeshwar Temple, Shyam ji Maharaj Temple, Mahakal and Mahakali Temple, Rawli Maharaj Temple, Ram Bagh (the first Mughal gardens), Soami Bagh and Mehtab Bagh are the must visiting places of Agra.
Agra : What to Buy
---
Stone items and leather goods are the best to purchase from Agra.
Agra : What to Eat
---
Daal Moth (spicy snacks), world famous Agra ka Petha and Chaat are the eatables you must eat during your Agra tour.
Agra : Excursion Tour
---
Fatehpur Sikri, Mathura, Vrindavan, Nandgaon and Bharatpur Bird Sanctuary are the nearby places from Agra. Fatehpur Sikri is UNESCO's world heritage site.
Suggested Readings for India Tour
---
Tags for Agra:
---
Agra, About Agra, Taj Mahal, Agra Information, Agra India, Agra Travel, Agra Hotels, Agra Cheap Flights, Agra Holidays, Agra Vacations, Agra Trip Advisor, Agra Things to do, India, Travel Agency, Air Tickets, Agra Heritage, Agra Travel Planner, Agra Monuments, Agra Car Rentals, Agra All Inclusive Packages
Agra: Visitors Comments
---