Travel >> India >> Rajasthan >> Jaipur >> Education >> University in Jaipur
Universities in Jaipur
Rajasthan Jaipur Education Universities Colleges
---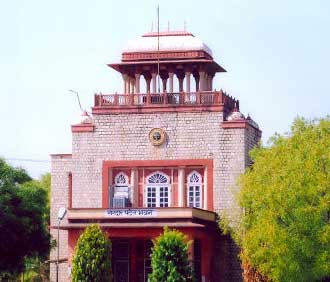 ICFAI University Jaipur
Jamdoli (Near Cambay Golf Resort),
Agra Road, Jaipur - 302031.
Ph.: 0141-5122646
Web: www.iujaipur.edu.in
Poornima University Jaipur
Plot no. IS-2027-31
Ramchandrapura, Sitapura Extension
Jaipur – 303905 (Rajasthan)
Telefax: +91-141-6500249
Web: www.poornima.edu.in/about-us/poornima-university-jaipur
JECRC University Jaipur
Plot No. IS-2036 to 2039
Ramchandrapura, Sitapura Industrial Area Extn
Near Mahatma Gandhi Hospital, Jaipur 303 905, Rajasthan
Ph.: +91 141-6565605
Web: www.jecrcuniversity.edu.in
VIT University Jaipur
Sector 36, NRI Road,
Sisyawas, Jagatpura,
Jaipur, Rajasthan 303012
Ph.: 0141-4077999
Web: www.vitjaipur.ac.in
University of Engineering and Management, Jaipur
Udaipuria Mod, Sikar Road,
Jaipur, Rajasthan - 303807.
(7 kms. away from Chomu)
Ph.: 0142 - 3205311
Web: www.uem.edu.in
Maharaj Vinayak Global University Jaipur
Dhand,Tehsil - Amer,
Jaipur - Delhi N.H.-8,
Jaipur, Rajasthan
Ph.: 01426-284175
Web: www.mvgu.ac.in
Manipal International University Jaipur
Vatika Infotech City, Jaipur-Ajmer Expressway
Post Thikaria, Jaipur, Rajasthan-302026.
Ph.: +91 92437 77744
Web: www.jaipur.manipal.edu
JK Lakshmipat University Jaipur
Laliya Ka Vas, P.O. Mahapura
Ajmer Road, Jaipur - 302 026
Ph.: 0141-2168223
Web: www.jklu.edu.in
Suggested Readings for Education in Rajasthan
---
Tags:
---
University in Jaipur, Universities in Jaipur, Rajasthan University, Universities in Rajasthan, Education, Rajasthan Education, Education in Rajasthan, Education Jaipur, Jaipur Education, Education in Jaipur, Colleges in Jaipur, Colleges in Rajasthan
Universities in Jaipur: Visitors Comments
---