Holidays >> Travel >> Things to do >> India >> Jaipur Cultural Tour
Jaipur Cultural Tour
Jaipur Cultural Tour, Jaipur, Travel, Hotels, Cheap Flights, Holidays, Vacations, Trip Advisor, Things to do, India, Rajasthan, Travel Agency, Air Tickets, Heritage, Travel Planner, Monuments, Car Rentals, All Inclusive Packages
---
Jaipur has rich culture due to manifolds of Indian traditions, colorful festivals, rural art, beautiful architecture, royal cuisine, great hospitality along with resemblance of Rajput and Mughal lifestyle.
As the Rulers of Amber and Jaipur were admirer and patron of art, craft, music, technical skills, and cultural values, so that they provided a very good platform to every art and craft and helped the artists and craftsmen to settle down in Jaipur. Even the rulers of Amber and Jaipur brought various arts and crafts from many other corners of India and honored the artists with land and money. Maharaja Sawai Jai Singh 2, planned dedicated markets for individual craft work, i.e. Johari Bazar is dedicated to Jaipur Jewelers, Maniharon Ka Rasta is dedicated to lacquer art and crafts. This nourishment made Jaipur art and craft, music, painting, handicraft and festivals world renowned and unique. This is the reason that Jaipur tourism lures every tourist and give unforgettable memories.
Lifestyle and everyday life of Jaipur
---
Routine life of Jaipur starts from early morning i.e. 4 a.m. in most of the families specially where one or more family members are of more than 40-45 years age group. As most of the temples open between 4 and 5 a.m. for first Aarti (first prayer) of the day, lot of people start their routine life with worships and prayers in early morning.
We are trying to explore each and every chapter related to routine life in Jaipur i.e. what Jaipurites drink, eat, wear, which languages they use, how to live, art, theatre, festivals, cuisine and more.
Traditional Culture in Homes in Jaipur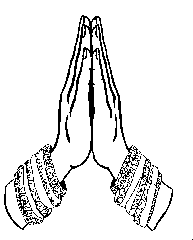 Cultured Way of Greeting - Younger members of family touch the feet of Elder members and says "Pranam" as salutation (respectful greeting), whereas the persons of same age group or unknown persons greet each other by saying Namaskar or Namaste with a slight bow made with hands pressed together, palms touching and fingers pointed upwards, in front of the chest.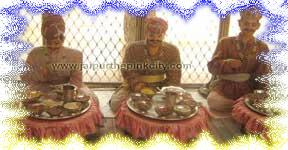 Cultural Values - Jaipurites do not wear shoes inside the home. Specifically, shoes are strictly prohibited in kitchens. All the family members take lunch and dinner together as possible, but if it is not possible in lunch due to jobs schedules and studies, at least all Jaipurites try their best to take dinner together with the family members. Traditionally female family members are responsible to cook food for whole family. Jaipurites sit on floor to take food. In most houses, after preparation, the food is first offered to Thakurji (Lord Krishna) and then it is served to male members. Female members take food after serving and feeding all male members.
Languages used in Jaipur
Official language of Jaipur is Hindi. Jaipurites use regional language Marwari for general communication in routine life. English is used as third language.
Drinking Water available in Jaipur
Generally, citizens of Jaipur drink simple tap water. However, in old four wall city Jaipur, it is recommended to use tap water after boiling. Now with the modernization and awareness, Jaipurites start using water purification systems in homes, but still in very less number. Tap water in Jaipur is supplied by state government daily for only 1-2 hours. This water is stored in tanks to use in one or more days, but according to culture next day this stored water is not used for drinking and cooking. For drinking and cooking fresh water is used.
Toilets used in Jaipur
In Jaipur, there are two types of toilets. One is called "Indian style toilet" and another one is called "Western style toilt." One will have to squat for using "Indian style toilet". Toilet papers are not used in "Indian style toilets." Water is used rather than toilet papers in "Indian style toilets".
Holidays schedule in Jaipur
Almost all of the markets, government offices, banks and hospitals remains closed on every Sunday, but emergency services, shopping malls, departmental stores and restaurants are open on Sunday. All government offices are closed on Saturdays and Sundays, because they follow 5 days week system.
Jaipur Festivals and Fairs
---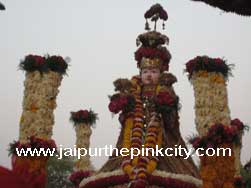 Main Jaipur festivals and fairs are Teej Festival, Makar Sankranti (Kite Festival), Ganesh Chaturthi Festival, Dussehra Festival, Holi Festival, Diwali Festival, Rakhi Festival, Gangaur Festival. read more...
Arts and Crafts in Jaipur
---
Jaipur arts and crafts are famous all over world for their uniqueness, such as architecture of historical buildings, literature, folk dance, shoes, theaters, jewelry, puppet, quilt and lacquer items.
Jaipur Literature
Jaipur and Amber always offered a great patronage to writers and poets. Many of the rulers of Jaipur and Amber were also wrote some world famous writings. Tulsi Das ji wrote a part of Ram Charit Manas in Jaipur at Galta. Famous Indian poet Bihari wrote Satsai (collection of Seven Hundred Verses) which is considered most well known book of Riti Kaal of Hindi literature. Famous poet Nabhadas ji wrote a famous sacred book Bhaktamal which literally means garland of devotees.
Folk Dances of Jaipur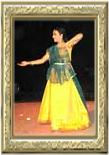 Jaipur is world famous for a formal and classical form of dance known as Kathak. Jaipur Kathak Gharana is very famous and a well established center for Kathak Dance.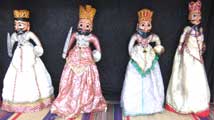 Kathputli (puppet) and Kathputli Dance of Jaipur is world famous. In Kathputli dance puppets are made of wood and cloth and strings are tied on various parts of these puppets. Puppeteer hold these string on back stage and make them dance on the music and musical stories.
Ghoomar is the folk dance of Bhil Tribe of Jaipur which is passed on to Kacchava Rajputas. In this folk dance ladies of royal families wear Ghagras (long skirts of many folds), and make swirl movements and round circle for long time. The folds of Ghagra unfolds and gives colorful dazzling. Don't miss to see these dances if you are on Jaipur tour in festival time.
Architecture of Jaipur and its Historical Buildings
Jaipur is well known as one of the best planned city, because in old four wall city every street is connected to main road, so nobody can wander in streets. The actual old Jaipur city which is known as Pink City is enclose within four fortification walls and each wall has a huge gate. The color of all buildings inside these four walls is pink, that's why it is known as pink city. The architecture of old city is based on vastu and astrology.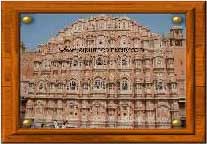 Historical buildings like Hawa Mahal, Jantar Mantar, Jaigarh Fort, Amber Fort, Albert Hall Museum, Jal Mahal (Lake Palace), Nahargarh Fort are the marvelous examples of unique architecture of Jaipur.
Hawa Mahal is known as palace of winds because it has more than 900 niches. It's view from main road is reflects shape of crown of Lord Krishna. It is 5 story building and each story is designed for a particular purpose.
Jantar Mantar - The World Heritage Site, is single astrological observatory of its own style all over the world. It has many huge building shaped instruments for astrological calculations.
Jaigarh Fort is world famous for its impenetrable capability, unique architecture, Jai bana cannon, beautiful gardens, huge water reservoirs and temples. See Photos of Jaigarh Fort
Amber Fort is very much famous for its beautiful design and architecture which is based on Indian architecture system known as Vastu Shastra. Maavtha Lake, Kesar Kyari, Dil-Aram-Baag, Shila Devi Temple, Amber palace, Sheesh Mahal (Glass Palace) are very pleasing sites of this fort. See Photos of Amber Fort
Albert Hall Museum or Govt. Central Museum is one of the finest museums of 19th century. Architecture of Albert Hall is a beautiful combination of Rajput and Mughal architecture and still is one of the best buildings in the world. Also it is listed in world class museums. Read More.....
Jal Mahal - Lake Palace, is constructed in the middle of Man Sagar Lake, which makes it different from other building and has great architectural value. It is 5 story building built with red sandstone. The four stories are inside water and only fifth story remains outside the water. It is the combination of Rajput, Mughal and Bengali architecture. read more....
Nahargarh Fort is constructed on a hill at a height of approx. 700 ft. It is two storied palace deivided into 9 exactly same apartments. Each apartment contains lobby, bedroom, toilet, kitchen and store designed to suit the needs of royal family. Nahargarh Fort is a beautiful example of Indian and European style of architecture. See Photos of Nahargarh Fort
Jaipur Jewelry
Jaipur is known as Gem City of India. Jaipur is world famous for special artwork in jewelry known as Meenakari and Kundan work. In Meenakari work the jewelry is enameled to make it comfortable to wear. Kundan work is art of setting stone in gold and silver. Apart from that Lacquer (Lakh) Jewelry of Jaipur is also world famous. Lakh jewelry with Meenakari work looks very beautiful and dazzling. Jaipur is the center of Lakh Jewelry. King of Jaipur establish 2 jewelry markets, Johri Bazar and Maniharon Ka Rasta, separately only for jewelrs, Johri Bazar for gold and silver jewelers and Maniharon Ka Rasta for Lacquer (Lakh) Jewelry.
Maharaja Sawai Jai Singh - King of Jaipur established some artists of musical folk drama "Tamasha" in Jaipur. The unique musical folk drama style of Jaipur is well known as Jaipur Tamasha and is 250 years old world famous art which is performed on occasion of Holi and Ramnavami Festivals. Artists perform the play with singers and musicians in open theatre known as "Akhara". at a central stage and the audience sits in a circle around the stage. The music of Tamasha is combination of classical, semi classical and folk music.
More on Jaipur Art and Crafts
Religion in Jaipur
---
People of all religion live in Jaipur and hence relevant houses of worship found everywhere in Jaipur.
Cuisine of Jaipur
---
Traditionally, in day-to-day life, Jaipurites eat Chapati (Indian bread made of wheat flour), Daal (pulses), seasonal vegetables, pickles, rice, bajra, barley, groundnut, gram, milk products, traditional sweets. Specialty of Jaipur cuisine is the lot of use of butter and clarified butter. Some world famous delicious dishes of Jaipur are Daal-Baati-Churma, Pyaz ki Kachori, Besan Gatta, Jalebi, Ghewar, Feeni, and Rabri.
In addition to this, as because Jaipur is tourism hub of India, a large number of multi-cuisine food joints found in Jaipur.
Clothing and apparel of Jaipur
---
In recent time, there is no official designated dress of Jaipur. Most of the males wear western shirts and pants, whereas ladies still wear traditional saree and salwar-kameez. Many males still wear traditional kurta-pajama and dhoti-kurta. Youngsters generally prefer western t-shirts and jeans.
Climate and weather of Jaipur
---
Pink City Jaipur is situated in the eastern part of Rajasthan, surrounded on three sides by the rugged Aravali hills. Jaipur has a semi-arid climate. Temperatures vary in different seasons. In the summer months of April to June, average daily temperature of around 35oC. May and June are the hottest months in Jaipur. Temperature reaches up to 40-45oC in these months. Annually the rainfall is concentrated in the monsoon months between June (Last of June) and September. It receives over 500 mm (approx 20 inch) of rainfall an average. The winter months of November to February are mild and pleasant, with average temperatures in the 15-18oC range and little or no humidity. December and January are the coldest months in Jaipur. Temperature varies between 5-10oC in these months. There are however occasional cold waves that lead to temperatures near freezing.
Suggested Readings for Jaipur
---
Tags:
---
Jaipur Cultural Tour, Jaipur, Travel, Hotels, Cheap Flights, Holidays, Vacations, Trip Advisor, Things to do, India, Rajasthan, Travel Agency, Air Tickets, Heritage, Travel Planner, Monuments, Car Rentals, All Inclusive Packages
Choose Best Travel Plan

Our Trip Advisor and Travel Planner will analyze your requirements and will help build your travel itinerary and provide suggestions. It will SAVE your TIME and MONEY.
Comments
---