Holidays >> Travel >> Things to do >> India >> Rajasthan >> Jaipur >> Heritage >> Monuments >> Albert Hall Museum
Albert Hall Museum Jaipur
Museum, Art, Science, Art Gallery, Art Museum, History Museum, Albert Hall Museum, Arts and Crafts Museum, Monuments in Jaipur, Hot spots for Jaipur Heritage Tour, Special Attractions in Jaipur Tour, Hotels, Cheap Flights, Holidays, Travel, Vacations, Trip Advisor, Things to do, India, Travel Agency, Air Tickets, Heritage, Jaipur, Travel Planner, Monuments, Rajasthan, Car Rentals, All Inclusive Packages
---
"Industrial Art Museum", now known as "Albert Hall Museum" and "Govt. Central Museum" is located in Ram Niwas Bag, Pink City Jaipur. It is one of the finest museums of 19th century. The wide range of 19,000 objects were collected for the museum including pottery, furniture and wood work, metal ware, ivory carvings, stone carvings, textiles and garments, carpets, clay models, arms & armor, lacquer work, miniature paintings, musical instruments, jewelry, sculptures and Egyptian mummy made it world-class museum. Hence, every tourist visit Albert Hall Museum on priority basis during Jaipur tour.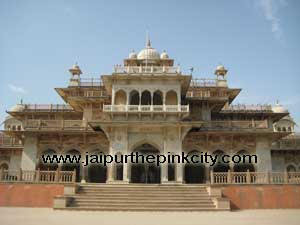 Albert Hall Museum of Jaipur is also an attraction for tourists because of its attractive building design. Jaipur forts and monuments are world wide famous for wonderful architecture. Building of Albert Hall Museum Jaipur is an example of it.
The building of Albert Hall Museum was constructed in year 1886. Samuel Swinton Jacob designed the Albert Hall Museum building.
History of Albert Hall Museum Jaipur
---
Albert hall museum was founded during the reign period of Sawai Ram Singh II. By the time it was building, Ram Singh II had passed away. Sawai Madho Singh II, the adopted son of Sawai Ram Singh II, had great interest in preserving the heritage of arts and crafts, so he putted his shoulders to the wheels and made it possible to take the shape of vision of Sawai Ram Singh into the form of Albert Hall Museum.
Museum of local industrial arts & crafts envisioned by Maharaja Sawai Ram Singh II was not in the shape of Albert hall initially with the wide range of collection of 19,000 objects. Infect, Sawai Ram Singh II wanted to develop and promote Jaipur's rich tradition of arts and crafts that was started by Maharaja Sawai Jai Singh in 1700 A.D. at the time of foundation of Pink City Jaipur. For the promotion of rich local industrial arts and crafts, Sawai Ram Singh II set up School of Art (now known as Rajasthan School of Art) in 1866 with all the required resources i.e. models, drawings, various instruments and apparatus so that the practical training and teaching of Jaipur's rich traditional arts and crafts could impart here.
At that time, School of Art started a small Museum within the School of Art itself, to serve as a library for the study of geology, mineralogy, and natural history with the help of related specimens collected and preserved here.
Maharaja was not satisfied with just a visual library for the students of arts and crafts, but he wanted to acquaint Jaipurites with their rich tradition and heritage, to provide students a ready-reckoner to study the art history of Jaipur region, and to develop a showcase as Jaipur's pride for visitors to let them know about the rich industrial art & craft of Pink City Jaipur.
Later on, Colonel Thomas Holbein Hendley came from England to Jaipur as the residency surgeon of the Indian Medical Services, who was passionate to preserve and develop the local industrial arts & crafts, proposed to set up a separate museum (other than the visual library in School of Art) which was accepted by Sawai Madho Singh II. That museum came into existence in 1881 at temporary accommodation in "Naya Mahal". This Naya Mahal is situated at Jaleb Chowk near Hawa Mahal which later on got the name "Mansingh Town Hall", and after independency of India, it was used for Vidhan Sabha (Legislative Assembly).
At that time, visit of Prince of Wales, Albert Edward VII was scheduled. Maharaja wanted to build a memorial building in honor of Albert Edward VII, and hence Sir Samuel Swinton Jacob was asked to design and construct the same. Samuel Swinton Jacob was a military engineer, came to Jaipur to head the public works department (PWD) in 1867, contributed substantially to architectural activities of the time. The first building he designed was Mayo Hospital which is now known as Zenana Hospital located near central bus stand of Pink City Jaipur, and is fully functional till date. He also contributed his skills to designing a boarding house for Jaipur pupils at Mayo College, Ajmer.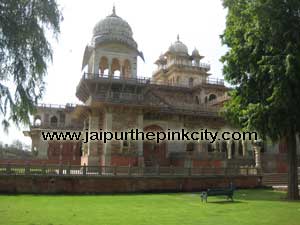 Jacob took the charge of Albert hall project (designing and construction) and putted his all the endeavors for the project. He sent his team to Agra, Fatehpur Sikri, and Delhi to study the Mughal monuments thoroughly. Amber palaces were specimen for Jacob's team to study the architecture of Rajput style. After thorough study of Rajput style architecture and Mughal monuments, Jacob produced the design for Albert Hall, which is a combination of both the styles of architecture, and still one of the best buildings in the world. Undoubtedly, Albert hall visit makes your Jaipur tour memorable.
Credit for general design of Albert Hall goes to Jacob, and the credit for detailed designs to represent local art goes to his team members especially artist Ram Baksh, draughtsman Chote Lal, and Shankar Lal, chief overseer Tujumul Husain, and principal masons Chander and Tara who left their signatures on each of the columns in the courtyards, because of whom the magnificent structure of Albert Hall - a precious gift to the world took shape by 1886.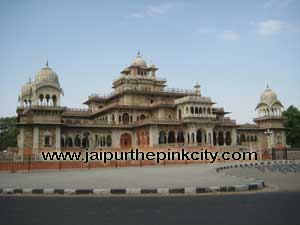 Inexplicable stone carving and ornamentation work on columns, pillars, doors, arches, cenotaphs, brackets, domes (Chattris), parapets, balconies, and Jharokhas (oriels) are marvelous examples of architecture, and invaluable references to study Mughal and Rajput ancient architecture.
As Colonel Thomas Holbein Hendley already started to collect the best examples of every art and craft work with an exhibition held in Jaipur in 1883, Maharaja with his committee members decided that the Albert Hall is a perfect home for that huge and unique collection. After the decision, museum of "Industrial Art and Craft" shifted from its temporary accommodation at Naya Mahal to Albert Hall and got ready for inauguration in February 1887.
Passion of Hendley for the museum can understand by his deed of compilation of ledger, in which he recorded the complete details of all the 19,000 unique objects collected for the museum. This ledger is still helping Department of Archaeology and Museums in maintaining inventory!
Suggested Readings for Jaipur
---
Tags:
---
Museum, Art, Crafts, Science, Art Gallery, Art Museum, History Museum, Albert Hall Museum, Arts and Crafts Museum, Monuments in Jaipur, Hot spots for Jaipur Heritage Tour, Special Attractions in Jaipur Tour, Hotels, Cheap Flights, Holidays, Travel, Vacations, Trip Advisor, Things to do, India, Travel Agency, Air Tickets, Heritage, Jaipur, Travel Planner, Monuments, Rajasthan, Car Rentals, All Inclusive Packages, Photos, Images, Pictures, Jaipur the Pink City, jaipurthepinkcity.com
Choose Best Travel Plan

Our Trip Advisor and Travel Planner will analyze your requirements and will help build your travel itinerary and provide suggestions. It will SAVE your TIME and MONEY.
Comments
---