Holidays >> Travel >> Things to do >> India >> Rajasthan >> Jaipur >> Heritage >> Monuments >> Albert Hall Museum
Albert Hall Museum : An Industrial Art and Craft Museum
Museum, Art, Science, Art Gallery, Art Museum, History Museum, Albert Hall Museum, Arts and Crafts Museum, Monuments in Jaipur, Hot spots for Jaipur Heritage Tour, Special Attractions in Jaipur Tour, Hotels, Cheap Flights, Holidays, Travel, Vacations, Trip Advisor, Things to do, India, Travel Agency, Air Tickets, Heritage, Jaipur, Travel Planner, Monuments, Rajasthan, Car Rentals, All Inclusive Packages
---
Pottery displays in the collection of Albert Hall Museum of Pink City Jaipur include:
1. Pattan Red & Black Ware
2. Indargarh Lacquer Ware, Chillums
3. Bikaner Gold Lacquer on Pottery
4. Bengal Carved Pottery
It is amazing to see the large collection of various kinds of pottery of India at one place during Jaipur tour.
Pattan Red & Black Ware
Pottery from Pattan in Gujarat has been described as similar to Roman Samian ware in look and texture. It is characterized by a highly burnished vitreous red slip surface with delicate graffito or scratched design ornamentation. The main idea was to have a slip that melted or sintered at a lower temperature than the body of the pot and so made a herder, less porous surface for vessels used with food and drink. This slip, commonly called Kabiz is made from the fine soil of rice fields. It is soaked for around two weeks in water, and the top layer is siphoned off leaving the sedimented slip which is burnished after application on the pot. Often this is polished with vegetable oil mustard or sesame- after firing to impart a further luster.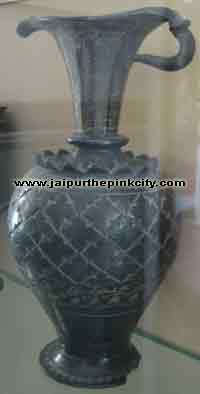 A reduction atmosphere is done in the kiln during firing to induce the black smoke colour of the ware, by closing the chimney mouths and fuel grate after the highest temperature has been reached so that smoke is produced which is not allowed to oxidize and so is absorbed by the clay itself, thereby changing the color to black. Some designs are resist-painted with the red slip and painted with a fine brush in black iron oxide.
Pattan Black Ware is characterized for its dense black surface caused by reduction smoke firing in the kiln. They are heavily carved with intricate designs and ornate handles. There is a common lotus petal carved ring at the neck, rim and foot which combined with a delicate lotus bud knob and a finely modeled foot rim makes this ware outstanding for its technical elegance and contoured shape.
Chillums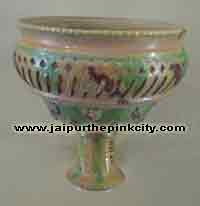 Chillums are clay pipes used extensively in Northern India for smoking opium, tobacco and other narcotics for long periods of time. This differs from the water-filtration system of the hooka (Huqqa) that was originally developed in India just after its introduction at the Moghul court. Large, well-decorated pieces (Gargaras) are seldom used nowadays. Smaller, more portable Hookas are now used. Special tobacco blends are available for consumption in Gargaras and Hookas.
They are made on the wheel with cut work in the area where smoke is required to escape to allow for longer burning. Simple graffito decoration is done through, bands of colored slip.
Bikaner Gold Lacquer Work on Pottery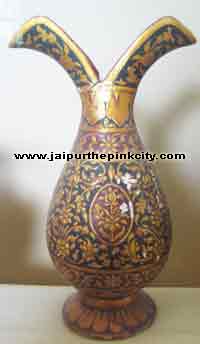 Lacquer ware was the most famous craft of Bikaner. It was traditionally only applied to wood, stone, glass and metal. The technique involves the application of liquid clay on the surface of the wood, which is when dry, the outlines of a flower pattern was stenciled with a bag of powdered charcoal through perforated paper. Successive layers of liquid clay were then applied with small squirrel s hair brushes within the outlines of the pattern, each layer being allowed to dry before the next application until a raised surface, ringing out the stalks, leaves and petals with sufficient distinction had been produced. The whole surface was then fixed by a coat of paint and when this was dry, gold leaf was applied over all. The style of ornamentation is either floral or geometrical, influenced by available color plates of the Taj Mahal marble work and very frequently the ground is broken up into medallions. The colors are very bright and limited. In the most typical work the design is in relief, in other cases the ware is merely painted. The beauty of the work is enhanced by the free use of gilding.
This technique was used to decorate the Bikaner screen at the Raj Niwas Hall at the Indo Colonial Exhibition. It was also used to decorate a large hall in the palace of the Maharaja. The craft was influenced by the intervention of Ms Talbot, the wife of Major A.C. Talbot the political agent at Bikaner in the late 19th century, who gave the craftsmen white earthen vessels of different well known forms instead of the old sauce or beer bottles, metal cans, sheets of tin forming the backs of bazaar mirrors, bedstead legs, etc that they used to lacquer. The first specimens were all sold at the Jaipur Museum as soon as they used to arrive. Among the other articles produced were wooden cabinets, wooden plaques to serve as book covers, vases of all kinds in stoneware, clay, porcelain glass and leather as well as charpoy or bedstead legs, chairs, boxes, portions of ekkas pony carriages or baillies bullock carts.
Pattan Kagazi Painted Ware
The lightness of the ware is due to the special qualities of plasticity of the clays. Similar kagazi white and gold painted and perforated ware is found at Alwar.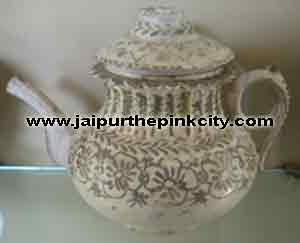 The color is made by the application of Kabiz, or fine iron oxide soil mixed with sweet oil before firing. This can be toned from apricot to rich red. The salmon color is produced by the application of natural red ochre mixed with the gum of the babul tree. The plum color which is the favorite for chillums is made of khariya mitti mixed with a colored earth or hirmach. The pinkish white is made from an earth called parei mitti which also gives a silvery appearance.
The techniques for the application of the gold painting, is similar to that of Amroha where before baking, the pot is covered with a coating of khariya mitti. For the application of the gold leaf the pattern is broadly marked in wax and the leaf put on over this. When the gold has worn away, it leaves a green marking.
Other objects made by this technique are water jugs, smoking pipes and bowls or chillums and hukka. In 1886 there were only 6 families of potters who still knew this technique and it was kept a secret.
Suggested Readings for Jaipur
---
Tags:
---
Museum, Art, Crafts, Science, Art Gallery, Art Museum, History Museum, Albert Hall Museum, Arts and Crafts Museum, Monuments in Jaipur, Hot spots for Jaipur Heritage Tour, Special Attractions in Jaipur Tour, Hotels, Cheap Flights, Holidays, Travel, Vacations, Trip Advisor, Things to do, India, Travel Agency, Air Tickets, Heritage, Jaipur, Travel Planner, Monuments, Rajasthan, Car Rentals, All Inclusive Packages, Photos, Images, Pictures, Jaipur the Pink City, jaipurthepinkcity.com
Choose Best Travel Plan

Our Trip Advisor and Travel Planner will analyze your requirements and will help build your travel itinerary and provide suggestions. It will SAVE your TIME and MONEY.
Comments
---