Holidays >> Travel >> Things to do >> India >> Rajasthan >> Jaipur >> Heritage >> Monuments >> Albert Hall Museum
Albert Hall Museum Jaipur : Pottery Collection
Museum, Art, Science, Art Gallery, Art Museum, History Museum, Albert Hall Museum, Arts and Crafts Museum, The Mummy from Egypt, Burmese and Sinhala Art, Hungarian Pottery, European Ceramic Collection, Japanese Pottery, Stone Sculptures, Monuments in Jaipur, Hot spots for Jaipur Heritage Tour, Special Attractions in Jaipur Tour, Hotels, Cheap Flights, Holidays, Travel, Vacations, Trip Advisor, Things to do, India, Travel Agency, Air Tickets, Heritage, Jaipur, Travel Planner, Monuments, Rajasthan, Car Rentals, All Inclusive Packages
---
Albert Hall Museum Jaipur has a dedicated section for international art and craft. In this section of Albert Hall Museum of Jaipur, you can find The Mummy from Egypt, Burmese and Sinhala Art, Masterpieces of Hungarian Pottery, European Ceramic Collection, Japanese Pottery and many other rare articles.
A tourist get two advantages of visiting Albert Hall Museum of Jaipur, i.e. Jaipur tour becomes a very good education tour for a tourist and the tourist get an opportunity to has a glance of the art and craft of various countries.
The Egyptian Mummy in Albert Hall Museum Jaipur
---
Its amazing to see a mummy during Jaipur Tour because Egypt is famous for it. The mummy of Tutu a female member from the priest's families of the God Chem of the Ptolomaic epic – 322 to 30 B.C. was found at Akhmin, ancient Panopolis is exhibited in Albert Hall Museum of Jaipur.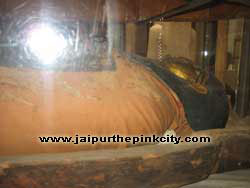 The lid shows a winged scarab beetle, symbol of resurrection in "after-life", flanked by heads of the principal deity, the falcon God Horus with solar disks. Below it is a wide bead collar down to the waist and a winged goddess for protection.
Further down, three panels show women flanking the mummy on a funereal bed, three seated figures of the judges of the Underworld and four sons' of Horus, divine guardians of the cardinal points, bearing human, jackal, baboon and falcon heads.
The lower plaque covering the legs shows the god Anubis holding down the mummy and assisting in its embalming and mummification. Anubis who has a jackal's head, was the God of cemeteries and embalming and conducted the souls to his father Osiris, Lord of the Underworld, for judgment in "after-life". Below the bed are five vases for holding viscera. Four genies are also present.
The text on the sides read: "Anubis lord of Necropolis" and "Giving protection to the Osiris (reborn) Tutu...".
The final panel shows the head of Osiris, God of the dead, symbolizing stability and durability, flanked by two cobras representing the Goddesses Isis and Nephtys.
The panels display the mummification and judgment of the soul in "after-life".
Burmese and Sinhala (Sri Lanka) Art in Albert Hall Museum Jaipur
---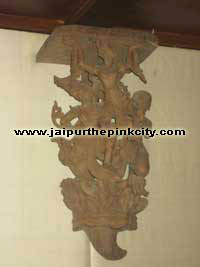 A tourist can see Burmese and Srilankan antiquities of 18th century in Albert Hall Museum Jaipur. Brass statue of Lord Buddha seated on the coils of a cobra which overshadows his head from Sri Lanka; Brass statue of a Demon holding his tail with one hand and a mace in the other from Mandalay; Belun- a teakwood statue of a Demon with gong and hammer in hands from Burma; and Sandalwood statue of a soldier armed with spear and sword from Burma are antiquities procured in late 18th century are in display of Albert Hall Museum of Pink City Jaipur and telling us lot about the art and craft of Burma and Sri Lanka.
Masterpieces of Hungarian Pottery (Vilmos Zsolnay Collection) in Albert Hall Museum Jaipur
---
Albert Hall Museum of Jaipur has another attraction for tourists as the collection of beautiful masterpieces of Hungarian pottery. Vilmos Zsolnay founded his manufactory at Pecs in 1853. His zeal for technical innovation and commitment to aesthetic excellence eventually made him pottery famous as a brand name in art pottery. His experiments with lustrous metallic glazes result in the famed Eozin ceramics. In the 1890s, he introduced the Art Nouveau style.
The uniqueness of Zsolnay's pottery made it popular at the industrial exhibitions of the time. He won international recognition in Vienna in 1874 and the Grand prix at the Paris World Exhibition 1878, making him as a master of the period.
Most of the pottery items on display at Albert Hall Museum Jaipur are Zsolnay's creations. That's why visiting Albert Hall museum during Jaipur tour not only entertain you a lot, but also its a kind of educational tour.
European Ceramic Collection in Albert Hall Museum Jaipur
---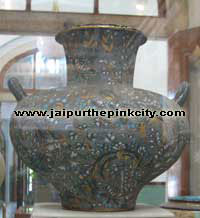 The collection on display in Albert Hall Museum Jaipur includes pottery from famous English potteries such as Doulton, Minton, as also the Danish potter Peter Ipsen whose products won awards at exhibitions around the world. He established his factory in 1843. He became famous for his Amphora vases (Greco-roman style vases with two handles and Classical Themes).
Japanese Pottery in Albert Hall Museum Jaipur
---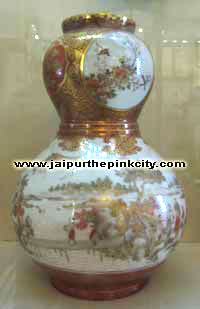 In this section of Albert Hall Museum Jaipur, you can see Japanese pottery procured in late 19th century. The collection of Japanese pottery includes Ornamented Vases of different shapes and sizes; Plates; Statues; Bowls; Bottles; Incense burner; Tea-pots and Jars etc.
Satsuma Vase by Kinkosan is a marvelous example of Japanese pottery art. The province of Satsuma on the Japanese island of Kuishu became known for their fine ware. During the Meiji period in late 19th century they made various types of ornamented, enameled and gilded high fire pottery often with scenes of Samurai life surrounded by ornate patterning and vivid colors.
The Kinkosan family from Kyoto was among the most highly regarded potters who made Satsuma ware using gold and silver highlights in relief with themes of Samurai warriors and Gheshas. Few of the creation is displayed at Albert Hall Museum of Pink City Jaipur.
Stone Sculptures in Albert Hall Museum Jaipur
---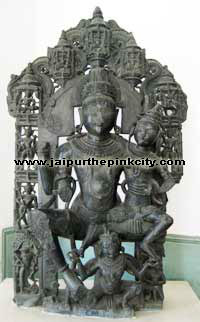 Stone Sculpture section of Albert Hall Museum, Pink City Jaipur contains unique, rare, and antique numerous sculptures of 8th – 11th century A.D. collected from Sambhar, Abhaneri, Narhad, Chaksu, and 4th century A.D. sculptures from Gandhar, and Varanasi.
Stone Sculpture is three dimensional artwork created by shaping stone. Because stone sculpture involves the modulation of stone, it is considered as one of the "Plastic Arts". Stone sculptures have generally sought to produce works of art that are as permanent as possible, because of durability of stone. History of stone and rock sculptures and architecture is very interesting.
The first known sculptures are from the Indus Valley civilization (3300-1700 BC), found in sites at Mohen-Jodaro and Harappa (previously part of India, now part of Pakistan). These are among the earliest known instances of sculpture in the world. Cave temples and statues of Ajanta and Ellora are other examples of Indian rock and stone fine art, which are perhaps the largest and most ambitious sculptural schemes in the world.
Suggested Readings for Jaipur
---
Tags:
---
Museum, Art, Crafts, Science, Art Gallery, Art Museum, History Museum, Albert Hall Museum, Arts and Crafts Museum, Monuments in Jaipur, Hot spots for Jaipur Heritage Tour, Special Attractions in Jaipur Tour, Hotels, Cheap Flights, Holidays, Travel, Vacations, Trip Advisor, Things to do, India, Travel Agency, Air Tickets, Heritage, Jaipur, Travel Planner, Monuments, Rajasthan, Car Rentals, All Inclusive Packages, Photos, Images, Pictures, Jaipur the Pink City, jaipurthepinkcity.com
Choose Best Travel Plan

Our Trip Advisor and Travel Planner will analyze your requirements and will help build your travel itinerary and provide suggestions. It will SAVE your TIME and MONEY.
Comments
---