Holidays >> Travel >> Things to do >> India >> Rajasthan >> Jaipur >> Heritage >> Monuments >> Albert Hall Museum
Albert Hall Museum Jaipur : Arms and Armor Collection
Museum, Art, Science, Art Gallery, Art Museum, History Museum, Albert Hall Museum, Arts and Crafts Museum, Hilts, Shields, Daggers, Pistols, Revolvers, Mace, Tiger knives, Spears and other arms and armors in Albert Hall Museum Jaipur, Monuments in Jaipur, Hot spots for Jaipur Heritage Tour, Special Attractions in Jaipur Tour, Hotels, Cheap Flights, Holidays, Travel, Vacations, Trip Advisor, Things to do, India, Travel Agency, Air Tickets, Heritage, Jaipur, Travel Planner, Monuments, Rajasthan, Car Rentals, All Inclusive Packages
---
Ornamented arms and armors including hilts, shields, daggers, pistols, revolvers, mace, tiger knives, spears etc. are the major attraction of a dedicated section of medieval and modern arms and armors at Albert Hall museum which were used by rulers of Pink City Jaipur and their army.
Hilts in Albert Hall Museum Jaipur
---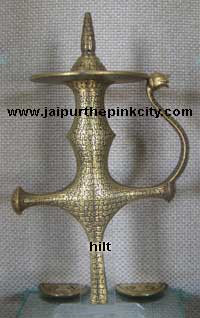 Beautifully ornamented hilts like Parrot shaped hilt; Hilt with Tahnishan (inlay) and Zarnishan work; Hilt with Tahnishan work of Deccan Mughal type; Hilt with Tahnishan work on Krishnaleela theme made in 16th century; and Hilt with Hyderabadi Golden inlay work are astonishing examples of fine art.
Swords in Albert Hall Museum Jaipur
---

Swords of different shapes, sizes, use and decorative patterns are in collection of Albert Hall Museum of Pink City Jaipur in large variety. Few of the swords are with straight blades, few are with curved blades, few are with the single edged blade and rests are of double edged blades. Few of the swords having beautifully ornamented hilts with Koftkari work, ivory work, and on few of the hilts the auspicious text is inscribed.
Shields in Albert Hall Museum Jaipur
---
Shields were important armor used for defense purpose in wars as well as it was a regular part of uniform of army personnel in ancient time. Shields were generally made of iron, steel, animal's skin mainly rhino, camel and buffalo leather.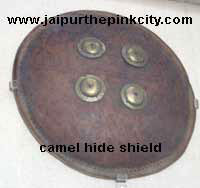 Camel hide shield ornamented with lions and flowers, chapdi and chandrus work of Bikaner; Punjabi shield ornamented in Punjabi koftkari pattern with flowers in iron; Transparent (Aftabi) shield made of camel leather with gold plated floral ornamentation are few of the attractions of the collection of swords in Albert Hall Museum of Pink City Jaipur.
Brass embossed shield, with embossed image of goddess on throne at centre along with the vehicle lion and eight kings in surrounding medallions is a unique shield at the exit of arms section of Albert Hall Museum of Pink City Jaipur.
Daggers in Albert Hall Museum Jaipur
---

Daggers were also built in different shapes, sizes, and designs like the swords. Nomenclature of the daggers is also depends on their use, shape, size, design, and size of blade. Some of the very well known names or types of Indian daggers are Khukri, Bhujali, Khanjar, Chhuri, Chhura, Katar, and Baank.
One can see a large collection of daggers in Albert Hall Museum of Pink City Jaipur with ornamented hilts ornamented in various patterns i.e. golden koftkari, ivory work, both the koftkari and ivory work together etc.
Most attractive daggers at Albert hall are the daggers of combination of knife and axe; and the daggers with animal's horns.
Pistols and Revolvers in Albert Hall Museum Jaipur
---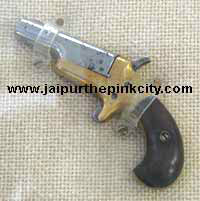 Lot of pistols and revolvers with floral decoration, and ivory work on the butt; with floral ornamentation, and auspicious text inscribed barrels are displayed here which were brought from mainly Govt. Museum, Bharatpur.
Eknali, Dunali, and Chaunali (single bore round, double bore round, and four bore round respectively) are the various types of revolvers which are in display at Albert hall.

Huge "Camel Gun" with wooden handle looking like a small canon was not hold by hands at the time of shooting but was placed on camel and to be fire towards the enemy from long distance is a main attraction in "Pistols and Revolvers" collection at Albert Hall Museum of Pink City Jaipur.
Other Arms and Armor in Albert Hall Museum Jaipur
---
Raja Man Singh-First's Helmet, Battle axes, Bagh Nakha (Tiger Claw), Ankush (Elephant Goad), Trishul, Spears, Daav (Shield with Deer Horns), Gurj (Mace), Gurj with Cow's head, Helmets, Arm guards, Breast plate, Gun powder flasks made of silver in shapes of head of various animals, and many more arms with beautiful Koftkari and ivory work are in collection in large number at Albert Hall's "Arms and Armor" section.
International Art in Albert Hall Museum Jaipur
---
We can see the replicas of medieval European collection in this section of Albert Hall Museum. Terracotta Bas Relief- Ivorian figures on oak frame based on Thorvaldnes's "Ages of Love", original of which is preserved at Thorvaldsen Museum, Copenhagen; Post-Justinian carvings of various periods of the Greek School; Roman Diptychs; Imperial warrior-Actinus or Boni Fucius- A.D. 380; Hygeia and Cupid; Greco-Roman Collection Replicas; Ceramic figures of Roman ladies; Goblets; Ceramic figures of Homer, Jupiter, Diana, Apolo Belvedere are few of the extraordinary replicas displayed at Albert Hall Museum of Pink City Jaipur.
The Egyptian Collection in Albert Hall Museum Jaipur
---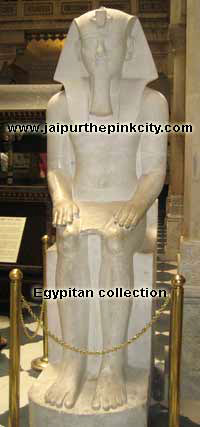 The Egyptian collection in the Albert Hall museum first finds mention in a guide published in 1885. It speaks of a representative collection of Egyptian antiquities especially put together for the Jaipur Museum by Emile Brugsch, curator of the museum at Cairo. The guide states that "as all the articles are genuine and have been collected by one of the principal authorities on the subject, the student will find here all that is necessary to obtain a good insight into the subject of Egyptology".
Suggested Readings for Jaipur
---
Tags:
---
Museum, Art, Crafts, Science, Art Gallery, Art Museum, History Museum, Albert Hall Museum, Arts and Crafts Museum, Monuments in Jaipur, Hot spots for Jaipur Heritage Tour, Special Attractions in Jaipur Tour, Hotels, Cheap Flights, Holidays, Travel, Vacations, Trip Advisor, Things to do, India, Travel Agency, Air Tickets, Heritage, Jaipur, Travel Planner, Monuments, Rajasthan, Car Rentals, All Inclusive Packages, Photos, Images, Pictures, Jaipur the Pink City, jaipurthepinkcity.com
Choose Best Travel Plan

Our Trip Advisor and Travel Planner will analyze your requirements and will help build your travel itinerary and provide suggestions. It will SAVE your TIME and MONEY.
Comments
---