Holidays >> Travel >> Things to do >> India >> Rajasthan >> Jaipur >> Heritage >> Monuments >> Albert Hall Museum
Albert Hall Museum Jaipur : Arms Collection
Museum, Art, Science, Art Gallery, Art Museum, History Museum, Albert Hall Museum, Arts and Crafts Museum, Monuments in Jaipur, Hot spots for Jaipur Heritage Tour, Special Attractions in Jaipur Tour, Hotels, Cheap Flights, Holidays, Travel, Vacations, Trip Advisor, Things to do, India, Travel Agency, Air Tickets, Heritage, Jaipur, Travel Planner, Monuments, Rajasthan, Car Rentals, All Inclusive Packages
---
Now, approximately 15,000 antiquities are in display of various galleries of the Albert Hall museum of Jaipur. Some antiquities have been shifted to Sawai Man Singh Town Hall, Jaipur. Some antiquities brought from other museums of Rajasthan at the time of renovation of Albert Hall museum during December 2006 to July 2008; especially firearms of 17th to 18th century collected from Bharatpur.
New museology techniques adopted for renovate the museum, so that the museum is now acquainted with audio guides in different languages, informative captions attached with the displayed items, and photo documentation of the collected items is also available in museum. This approach makes the Jaipur museum world-class and tourists can make their Jaipur tour memorable.
After renovation, the collection of antiquities display on two floors of the museum. Metal Art, Arms and Armor, International Art, Stone Sculptures, Indian Pottery, and Carpet Collection are displayed on ground floor. Miniature Paintings, Clay Figures, Musical Instruments, Textiles and Garments, Furniture and Woodwork, Lacquer Work, and Jewelry are displayed on first floor. Egyptian Mummy of 322-330 B.C. is preserved at ground floor in "International Art" section.
Metal Art Section of Albert Hall Museum of Jaipur
---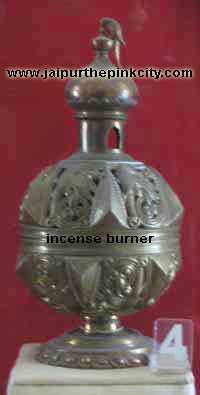 Metal room of Albert Hall is showcasing antique specimen of exceptional Metal work of India. The entire process of this applauded metal work (especially in brass, bronze, and silver) was accomplished in many steps. First of all, a smith molded the brass or silver in the required shape of object. Then after, turner polished it. After polishing, drawings had been drawn on the surface of the object. Finally, engraver engraved or embossed those drawings very finely with the help of hammers and other tools. One can see large collection of this sort of engraved metal work during his Jaipur tour in Metal room at Albert hall museum, which includes salvers, dishes, tea-pots, rose-water sprinklers, perfume sprinklers, water-pots, shields, and huqqa etc. Craftsmen mainly emphasized the designs based on Hindu epic, hunting scenes, floral designs, and animal's designs in their engraving work for which Jaipur's metal work and Indian metal work have a unique identity in the world.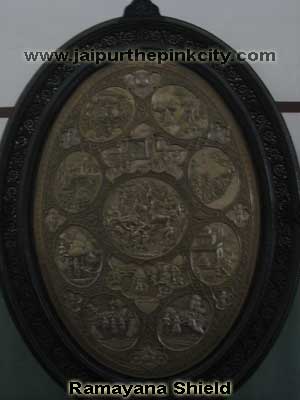 One of the best examples of unique engraving on metal salver is five feet tall Ramayana Shield, based on Hindu epic. Ganga Baksh, one of the best craftsmen of brass work, engraved the main episodes of Ramayana on this shield in eight oval and one circular ornamented tablets of metal, which took approximately 2 years to complete.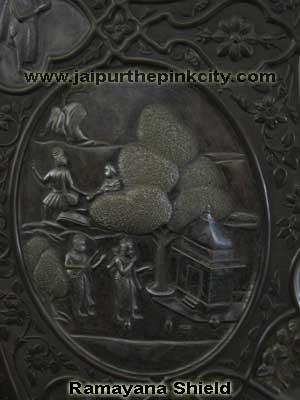 Some other awesome examples one can experience in Metal room of Albert hall museum are Ashwamedha shield in circular shape; Mahabharat Shield; Circular salver showing Tithis-brass salver with repouse work showing Surya Bhagwan (Sun God) on his celestial chariot in the centre surrounded by 16 Tithis (Days) of the Hindu lunar month including Purnima (full moon) and Amavasya (no-moon) in the inner circle and 32 Lords for the Tithis for 16 days and nights in the outer circle conforming with "Mahurat Chintamani", for determining auspicious and inauspicious occasions during the month; Circular zodiac salver made from brass showing 28 Nakshatra (Asterisms) in outer circle, 12 Rashis (Zodiac signs) in inner circle and the Sun on celestial chariot as lord of planets (Grihapati) at the centre; Brass made Dravidian scroll, curved shoots and floral patterned circular salver; Brass vessel with peacock on lid with typical ribbed design on bowl found in vases inspired by designs seen in niches in Amber Palace; Ganesh Katora-brass bowl engraved with floral bands, handle shaped like a snake with Lord Ganesh seated on lid; Saanp ki Surahi- a brass water jug made at School of Art in Jaipur, named after the snake-shaped handle; Ornate silver huqqa from Punjab with a profusion of gold plated leaves emerging from its engraved body, the mouth of the smoking pipe is shaped like the jeweled hand of a lady, and the base is of velvet with floral "Zari" patterns and many more magnificent antiquities.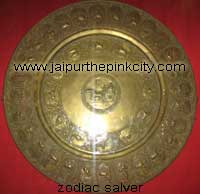 Arms and Armor Section of Albert Hall Museum of Jaipur
---

One complete section is dedicated to showcase medieval and modern arms and armors at Albert Hall museum which were used by rulers of Pink City Jaipur and their army. If you have good interest in arms and armors, you must visit this section of Albert hall museum of Jaipur during your Jaipur tour. Some weapons also collected from other museums especially firearms from Bharatpur. Scabbards, hilts, and handles of the arms are ornamented with beautiful art of Koftkari (art of damascening steel weaponry with inlay of gold and silver), as well as ivory work.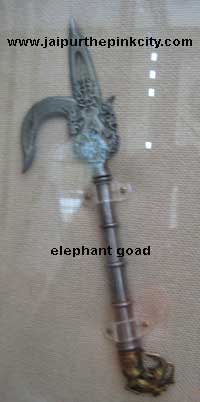 A rich collection of beautifully ornamented Shields of iron, brass (some are silver plated), bronze and camel lather; Bow (with Lacquered work) and Arrow; Tiger Knives; Hilts; Battle Axe; Elephant Goad; Swords; Knives; Spears; Helmets; Daggers; Riffles; Pistols; Gun powder flasks; Lances; Leg and arm covers; Breast covers; and Knuckle guards exhibit here with informative tags describing information about material used to made those weapons, source of collection, use of weapons, made by which period of time, and what kind of ornamentation work had been done on the weapons.
In one line, we can say that the unique varieties of weapons of historical and artistic significance are here in display at Albert Hall Museum of Pink City Jaipur.
Bow and Arrow Section in Albert Hall Museum of Jaipur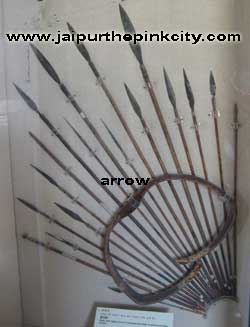 Bow made of steel, with "Kataar Arrow" of bamboo and steel; Bow of Mughal period made of wood and leather with lacquer work on it; Steel arrow with "Koftkari" pattern in gold; "Tukka" - Arrow with a round steel head are displayed at Albert Hall Museum of Pink City Jaipur.
Tiger Knives displayed in Albert Hall Museum of Jaipur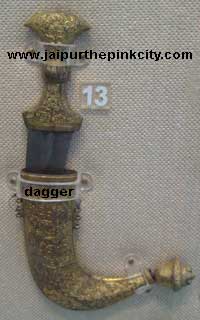 A rich collection of tiger knives of various time periods and different places can be viewed here, i.e. Tiger knife of Boondi used by Mughals with Gold Koftkari work; Tiger Knife with Sumbi work on gold, flower garden pattern work, Damascus steel of Mughals; Tiger knife ornamented with gold wire work on which Sanskrit Slokas inscribed; and Tiger knife of Persian style are few of the best examples of the collection at Albert Hall Museum of Pink City Jaipur.
Suggested Readings for Jaipur
---
Tags:
---
Museum, Art, Crafts, Science, Art Gallery, Art Museum, History Museum, Albert Hall Museum, Arts and Crafts Museum, Monuments in Jaipur, Hot spots for Jaipur Heritage Tour, Special Attractions in Jaipur Tour, Hotels, Cheap Flights, Holidays, Travel, Vacations, Trip Advisor, Things to do, India, Travel Agency, Air Tickets, Heritage, Jaipur, Travel Planner, Monuments, Rajasthan, Car Rentals, All Inclusive Packages, Photos, Images, Pictures, Jaipur the Pink City, jaipurthepinkcity.com
Choose Best Travel Plan

Our Trip Advisor and Travel Planner will analyze your requirements and will help build your travel itinerary and provide suggestions. It will SAVE your TIME and MONEY.
Comments
---