Holidays >> Travel >> Things to do >> India >> Rajasthan >> Jaipur >> Heritage >> Monuments >> Albert Hall Museum
Albert Hall Museum : An Industrial Art and Craft Museum
Museum, Art, Science, Art Gallery, Art Museum, History Museum, Albert Hall Museum, Arts and Crafts Museum, Monuments in Jaipur, Hot spots for Jaipur Heritage Tour, Special Attractions in Jaipur Tour, Hotels, Cheap Flights, Holidays, Travel, Vacations, Trip Advisor, Things to do, India, Travel Agency, Air Tickets, Heritage, Jaipur, Travel Planner, Monuments, Rajasthan, Car Rentals, All Inclusive Packages
---
Albert Hall Museum : Pottery Collection Room 2
Painted and decorated pottery can be classified into glazed and unglazed ware. The glazed ware is normally made by a group of hereditary potters known as kashigars and the unglazed ware is made by the Kumhars.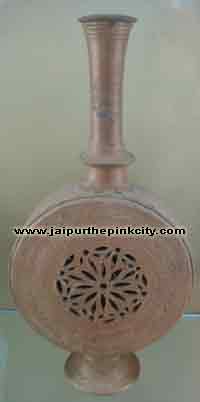 The Collection in Room 2 shows examples from both the groups from around the sub-continent. This kind of pottery collection is not easily available in any museum, and hence one must visit Albert Hall Museum Pottery Collection Room 2 during Jaipur tour.
The unglazed decorated ware is unusual in its deft use of material to achieve unique surface finishes and fine delicate workmanship as on: Bangal bidri from the East with its characteristic silver inlay and glossy black unglazed surface, Bahawalpur Kagazi from north Punjab with its apricot colored mica glossed surface and intricate cutwork to the Pattan Kagazi from the West, known for its paper thin fragility and soft use of unusual colors from natural earths.
The glazed pottery examples are special in their distinct regional characteristics; however all use the low temperature glazes based on borax and lead on a red clay base. Each glazed pot highly decorated with floral patterns and bands of creepers or geometrical cartouches with natural forms in slips and then put under a transparent glaze. There are no examples in this group of a high temperature glaze and clay. From the North, Khurja s specialty are white and blue raised painting on a red ground, and Jalandhar's is known for its green copper glaze, petal modeling and multicolored tile work. Burhanpur in the Deccan was known for its white painted decoration on a dark red base.
The oldest glazed traditions in the subcontinent are from Hala in Sindh where the roots lie in glazed architectural tiles and cornices. The Bombay School of Art was the second Art School to begin training in pottery. It was inspired by the techniques and potters of Hala and introduced them at the School in the 1860 s and also attempted to change, interpret and integrate it into its new aesthetic. The discovery of the Buddhist paintings in the caves at Ajanta and the detailed studies made of them by students and teachers of the school were reflected in the changed ornamentation on the pottery which moved from the floral to the figurative- from the abstract to the narrative.
Bengal Bidri Ware
The technique of silver inlay in metal called Bidri was begun in the town of Bidar near Hyderabad in Andhra Pradesh. However, the clay tradition of silver inlay was a parallel style that evolved in Nizamabad and Azamgarh in Uttar Pradesh and in parts of Bengal.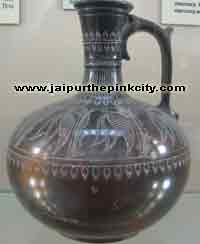 It is characterized by strong curvilinear contours, flowing handles and floral bands and medallions of inlay decoration. A variety of objects are made in the Bidri repertoire, Devari and Diya, used as lamps, Nadiya for storing curd, Meti for oils and Pickles and Tastari is gifted at weddings. Domestic pots, oil lamps, chillums, incense holders and decorative objects are also made. The pots are thrown on the wheel and the bases are turned with a metal tool to make the foot rim and refine the profile which closely resembles the metal form. The surface is burnished on the wheel with an agate stone and fine clay slip called kabiz is used, which is a mixture of wheat field clay, mango tree bark, bamboo leaves, mixed with soda and water. Mustard oil is applied and polished with a soft cloth. The designs are engraved with a pointed needle. The pots are placed within a specially made large clay vessel along with powdered cow dung. The lid of the vessel is sealed to trap the smoke, and after the firing, the pots are black in color due to the reduction atmosphere created. The inlay work is carried out by the women of the family. Once the metal was silver but today it is a mixture of lead, zinc, and mercury. Equal portions are pounded into a powder, mixed with a few drops of mercury and pressed into the engraved lines with the hand.
A large collection of beautiful Bengal Bidri Ware is in display of Albert Hall Museum's Pottery Section at Pink City Jaipur.
Khurja Bulundshahar Ware
The original home of Khurja pottery is said to be Meerut or Bahadurgarh. The industry was introduced here from Multan around 1690 and was used to make architectural tiles and some domestic objects.
At Khurja, like in chunar, pottery was introduced to glazing apparently by a potter called Bacha a vessel maker or Kumhar, who had learnt technique in Bombay and brought it to Chunar around 1875. The shapes were European in design and influence. It was patronized by the collector Mr. Growse and the Nawab of Rampur.
Suggested Readings for Jaipur
---
Tags:
---
Museum, Art, Crafts, Science, Art Gallery, Art Museum, History Museum, Albert Hall Museum, Arts and Crafts Museum, Monuments in Jaipur, Hot spots for Jaipur Heritage Tour, Special Attractions in Jaipur Tour, Hotels, Cheap Flights, Holidays, Travel, Vacations, Trip Advisor, Things to do, India, Travel Agency, Air Tickets, Heritage, Jaipur, Travel Planner, Monuments, Rajasthan, Car Rentals, All Inclusive Packages, Photos, Images, Pictures, Jaipur the Pink City, jaipurthepinkcity.com
Choose Best Travel Plan

Our Trip Advisor and Travel Planner will analyze your requirements and will help build your travel itinerary and provide suggestions. It will SAVE your TIME and MONEY.
Comments
---