Holidays >> Travel >> Things to do >> India >> Rajasthan >> Jaipur >> Heritage >> Monuments >> Albert Hall Museum
Albert Hall Museum Jaipur : Pottery Collection
Museum, Art, Science, Art Gallery, Art Museum, History Museum, Albert Hall Museum, Arts and Crafts Museum, Monuments in Jaipur, Hot spots for Jaipur Heritage Tour, Special Attractions in Jaipur Tour, Hotels, Cheap Flights, Holidays, Travel, Vacations, Trip Advisor, Things to do, India, Travel Agency, Air Tickets, Heritage, Jaipur, Travel Planner, Monuments, Rajasthan, Car Rentals, All Inclusive Packages
---
Jaipur - Albert Hall Museum pottery collection is one of the finest 19th century collections in India which richly illustrates the range, vitality and complexity of this craft tradition.
Jaipur - Albert Hall Museum Pottery Collection : An Introduction
Jaipur - Albert Hall Museum Pottery section is a very big section and divided in three subsections. In Room 1, there is a fine display of the unglazed traditional vessels with decorative finishes like burnishing and lacquer.
Room 2 of pottery section of Jaipur Albert Hall Museum shows the painted, incised and cutwork unglazed pottery which is renowned for its delicacy and elegance of shape.
Whereas, Room 3 of pottery section of Albert Hall Museum Jaipur, in particular brings into focus the variety of the Jaipur Blue Pottery. As Jaipur Blue Pottery is world famous, it is always in demand by the tourists on Jaipur tour.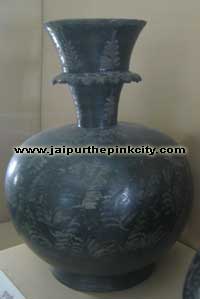 Throughout India raw and fired clay has played a vital part in the daily life and ritual of our people. The primordial water pot for the gathering of the nectar of the gods, the sacred Kumbha and Kalasha which mirrors the symbolic cosmic universe is used from rituals beginning with birth, marriage and death. The vessel making tradition goes back in time and history to the primordial Kalasha or pot that carried the nectar, Amrit of the gods, after the churning of the celestial ocean when the world was first formed. Another legend describes the making of the first pot required by the gods at the time of the marriage of Lord Shiva and Goddess Parvati. The potter was called to make a celestial Kalasha but he had no tools and materials. So Shiva gave his Sudharshana chakra for the potter's wheel and his Janeu for the thread that cuts the pot off the wheel. Goddess Parvati rubbed the skin of her body and gave it as clay, while the celestial tortoise gave his shell as the scraper. The act of Praan-Pratishtha-breathing life into clay, whether it is a figure of god, animal or vessel, is both a spiritual and creative act for the potter.
Indian pottery, both unglazed and glazed, was an important part of the art manufactures exhibited at the International Great Exhibitions of the 19th century. The Great Crystal Palace Exhibition of 1850 in England highlighted the richness of Indian art manufactures. Later Exhibitions documented the effect of art school training based on a European model as opposed to the guild or Gurukul indigenous art/craft training that was prevalent. This European influence of form, technique and foundation on Indian pottery is excellently represented in Room 2 and 3 of Albert Hall Museum of Pink City Jaipur.
Jaipur - Albert Hall Museum pottery collection provides ample evidence for the first time that there was an indigenous range of low temperature glazed pottery being made in the subcontinent before the 20th century. The evidence of a type of faience ware, i.e., a low temperature fired, self glazing clay, mainly copper blue and green, at cities of the Indus Valley civilization from 4500 B.C. in the form of bangles, small amulets and figurines shows familiarity with a glaze technique which was also used in very sophisticated ways in the early civilizations such as Egypt and Mesopotamia. The techniques of glazing on red clay began with skilled craftsmen who were brought to India along with early Muslim dynasties from the 11th century A.D.
Jaipur Museum : Unglazed Traditional Regional Pottery Collection
A wide range of vessels for domestic use are made throughout India with regional differences in technique. Of special mention are the familiar vessels in popular use.
Water pots are the most important where water must be fetched from a river or a well, stored and cooled, then served for drinking, cooking or other purposes. They have round bases with necks and flaring rims for ease in carrying on the head or hip. High-necked pots are for carrying on the hip as the four fingers of one hand must conveniently support the pot with its neck during transportation. Water pots with small neck are for carrying one above the other on the head.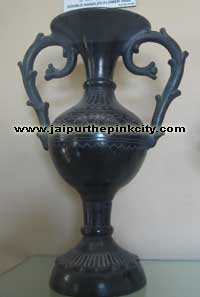 There are special shapes for all kinds and types of cooking. These include Thalis or Khonchahs, Katora or Vati, Kulhads and spouted pots, Tutiya are used for drinking purposes and to feed young children.
Special care was given to the purification of terracotta. It is still believed that earthenware can easily become polluted due to its porosity and ability to absorb not only germs and dirt but also negative energy such as evil spirits, which can not be washed away. Contamination through bodily fluids such as saliva is feared. Clay cups and bowls used for drinking tea, serving milk, sweets or curd are discarded and broken after a single use. Old pots were replaced regularly with new ones on special occasions, like an eclipse etc. These rules of ritual pollution result in continuous cycles of terracotta pots being discarded and replaced at festivals and family occasions like death etc. The gradual affordability of nonporous manufactured vessels in metal, glazed ceramic, plastic and glass which can be washed after use is gradually eroding the role of the village potter.
Clay is normally collected from lakes and river beds by the potter. This is then pounded by the women of the family into semi powder and the extraneous matter like stones and leaves is removed. The clay is mixed with water and kneaded by the rhythmic pounding of the feet. The potter usually works on the wheel which is made of stone or wood and placed in a pivot at floor level. It is turned by holding a stick with a socket in the rim. The pots are made on the wheel and cut off by a small string. If a water pot is to be made, the base is thrown thick and after some drying, the base is reworked using ash with the thapa, paddle and pindi, stone support. This makes the base globular and even in thickness to allow for more quantity of water to be held and cooled by surface contact. The pots are dried upside down and a red slip, made of fine natural earth rich in iron oxide, terrasigillata, is aaplied to the surface with a small soft cloth by the women. Often this is also burnished to add a shine to the surface by rubbing with a stone. White decoration is applied by a brush made of a stick with thread. After drying, the pots are placed in a simple open pit firing using agricultural waste and cow dung cakes as fuel.
Suggested Readings for Jaipur
---
Tags:
---
Museum, Art, Crafts, Science, Art Gallery, Art Museum, History Museum, Albert Hall Museum, Arts and Crafts Museum, Monuments in Jaipur, Hot spots for Jaipur Heritage Tour, Special Attractions in Jaipur Tour, Hotels, Cheap Flights, Holidays, Travel, Vacations, Trip Advisor, Things to do, India, Travel Agency, Air Tickets, Heritage, Jaipur, Travel Planner, Monuments, Rajasthan, Car Rentals, All Inclusive Packages, Photos, Images, Pictures, Jaipur the Pink City, jaipurthepinkcity.com
Choose Best Travel Plan

Our Trip Advisor and Travel Planner will analyze your requirements and will help build your travel itinerary and provide suggestions. It will SAVE your TIME and MONEY.
Comments
---