Holidays >> Travel >> Things to do >> India >> Rajasthan >> Jaipur >> Heritage >> Monuments >> Albert Hall Museum
Albert Hall Museum : An Industrial Art and Craft Museum
Museum, Art, Science, Art Gallery, Art Museum, History Museum, Albert Hall Museum, Arts and Crafts Museum, Monuments in Jaipur, Hot spots for Jaipur Heritage Tour, Special Attractions in Jaipur Tour, Hotels, Cheap Flights, Holidays, Travel, Vacations, Trip Advisor, Things to do, India, Travel Agency, Air Tickets, Heritage, Jaipur, Travel Planner, Monuments, Rajasthan, Car Rentals, All Inclusive Packages
---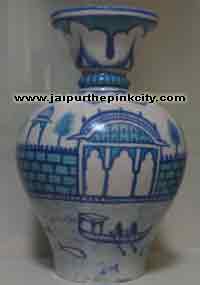 At the Calcutta Exhibition of 1881-82 the Jeypore School of Arts won a silver medal. Khoda Baksh, Ganesh, Sree Narain, Udai Ram were the names mentioned in the makers list. Not all the work was made in the white semi porcellanous clay, with blue and copper blue painting. Khoda Baksh is listed as displaying a dark yellow jamboo, a brown narrow necked jug, a black pot and an abkhora with cover in a dark brown glaze. Ganesh and Sree Narain displayed among other white and blue vessels, a small dark yellow tumbler and a green lota, along with a green patterned tile. Udairam was the most prolific and seemed to have been working only in the white and blue ware making pickle jars, abkhoras and surahis, vases and spittoons.
At the first Jeypore Exhibitions of 1883 the Jeypore School of Art had a special pride of place at the display of pottery. At the Calcutta Exhibitions of 1883, there was mention of the pottery teacher, Ram Baksh who also taught painting and drawing as well as jewelry design. The School won a number of certificates of merit for their pottery designs.
In October 1886 issue of the Journal of Indian Art devoted to the exhibits of the Colonial and Indian Exhibition, Jeypore pottery, which was represented with plates, vases, water bottles, pierced tiles and painted panels was made by not only the students of the School but was now a flourishing industry in the city on account of the old students. Color had been sparingly used like canary yellow, dark blue and brown. Most of the best examples still were painted with arabesque patterns or floral or with figures of animals. That's why Jaipur tour is incomplete without visiting Albert Hall Museum Jaipur.
The variety of designs is immense and in the early 1890's the potters preferred to cover their vessels with mythological and other figures which were sent to dealers in London.
The collection of Jaipur blue pottery in Albert Hall Museum of Pink City Jaipur has been displayed according to following categories:-
i. Animal figures (very popular among foreign tourists virtue of the time).
ii. Depiction of palace architecture.
iii. Pilgrims unique shaped water bottles.
iv. Mythological themes.
v. Influence of the Bombay School of Art.
vi. Vessels of miscellaneous colors.
vii. Large vessels.
The Hunt Group and Animal figures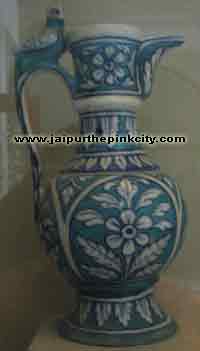 Unique example of innovation in the Jaipur School of Art painted patterns is that of scenes of the Hunt including in them animals like elephants, deer and riders on horse back set in a landscape. The later designs incorporated modeled animals like birds, tiger and peacocks on the handle, spout and neck of the pots. Due to popular European market influences other colors like a pale iron brown began to be incorporated in the shading of for instance a peacock s wings, for example. Later 19th century patterns include a simplified six petal led daisy band, two-toned copper shaded cartouches with no floral.
The Deities Group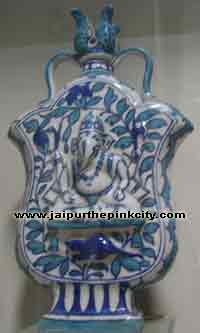 The introduction of figurative panels on glazed pottery amid the customary bands of floral wreaths was an idea presented by the Jaipur School of Art in the late 19th century.
All paintings were in the style of the regional miniature oeuvre and were made by the students who were trained as painters. This division of decorative specialization mirrored the production system from other regions, like Sindh where the calligraphy painted on tiles was done by a Nasqli or a trained calligrapher rather than the potter. One can see the beginnings of the hesitant introduction of new colors like chrome green.
Pilgrim Flask Group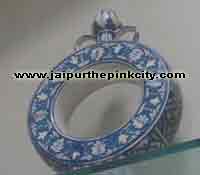 The Pilgrim Flask as a distinctively shaped vessel has its origins in the leather water bottle that was tied to the camel s back and saddle over long desert journeys. This decorative version is purely ornamental and is characterized by a rectangular base, curved handles and a flattened circular body that is a wonderful opportunity for the painter to emblazon with floral wreaths, scrolls and arabesques. The introduction of new shading and ground colors is more pronounced with this group-manganese purple, chrome green and iron brown.
Peshawar Pottery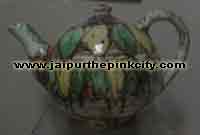 Peshawar has always been a frontier town, the meeting place of the subcontinent and Central Asia. It is also a place where ancient traditions rub against those of todays. The fortunes of Peshawar are inextricably linked to the Khyber Pass, the eastern end of which it guards, and which was a popular trade route. Peshawar has had as many names as its rulers.
Peshawar was renowned for its glazed pottery for eating and serving food. The tabakh, a large circular dish, of Persian origin, is a typical vessel made at Peshawar. The glaze is based on borax and lead and the local clay fires to buff color terracotta. It is glazed with splashing of copper green and iron brown on a white slip of khari mitti and gum.
This exquisite collection demonstrates classic Peshawar pottery with its unusual splash glazing style reminiscent of the Persian and Italian tin majolica genre.
Suggested Readings for Jaipur
---
Tags:
---
Museum, Art, Science, Art Gallery, Art Museum, History Museum, Albert Hall Museum, Arts and Crafts Museum, Monuments in Jaipur, Hot spots for Jaipur Heritage Tour, Special Attractions in Jaipur Tour, Hotels, Cheap Flights, Holidays, Travel, Vacations, Trip Advisor, Things to do, India, Travel Agency, Air Tickets, Heritage, Jaipur, Travel Planner, Monuments, Rajasthan, Car Rentals, All Inclusive Packages, Photos, Images, Pictures, Jaipur the Pink City, jaipurthepinkcity.com
Choose Best Travel Plan

Our Trip Advisor and Travel Planner will analyze your requirements and will help build your travel itinerary and provide suggestions. It will SAVE your TIME and MONEY.
Comments
---