Holidays >> Travel >> Things to do >> India >> Rajasthan >> Jaipur >> Heritage >> Monuments >> Albert Hall Museum
Albert Hall Museum Jaipur : Stone Sculpture Collection
Museum, Art, Science, Art Gallery, Art Museum, History Museum, Albert Hall Museum, Arts and Crafts Museum, Stone Sculpture Section, Watch the Glory of Ancient Sculptures at Jaipur Albert Hall Museum to make your Jaipur Tour special, Monuments in Jaipur, Hot spots for Jaipur Heritage Tour, Special Attractions in Jaipur Tour, Hotels, Cheap Flights, Holidays, Travel, Vacations, Trip Advisor, Things to do, India, Travel Agency, Air Tickets, Heritage, Jaipur, Travel Planner, Monuments, Rajasthan, Car Rentals, All Inclusive Packages
---
Jaipur Albert Hall Museum is a wonderful place to watch and study ancient stone sculptures. Jaipur is probably the only place in India where you can watch stone sculptures of 7th century. Gandharan stone sculpture, pink stone sculptures, black stone sculptures, sculptures of the time of Gupta dynasty, Chola dynasty, old stone sculptures of Sambhar (Rajasthan) etc. are exhibited in Jaipur Albert Hall Museum.
Jaipur Albert Hall Museum : Gandharan sculptures
---
During the 2nd to 1st century BC in northern India, now in northern Pakistan, sculptures became more anatomically realistic, influenced by Bhuddhism and hence often representing episodes of the life and teachings of Gautama Buddha. Although India had a long sculptural tradition and a mastery of rich iconography, the Buddha was never represented in human form before this time, but only through symbols such as the "Stupa". This alteration in style may have occurred because Gandharan Buddhist sculpture in ancient Afghanistan acquired Greek and Persian influence. Artistically, the Gandharan School of sculpture is characterized by wavy hair, drapery covering shoulders, shoes and sandals, and acanthus leaf decorations, among other things. There are three images of Gandharan art in Albert Hall Museum Jaipur.
In Kushana era, mainly two schools of art were flourishing simultaneously. One was in Gandhara and the other one was in Mathura in eastern India.
Jaipur Albert Hall Museum : Pink Sandstone Sculptures of Mathura
---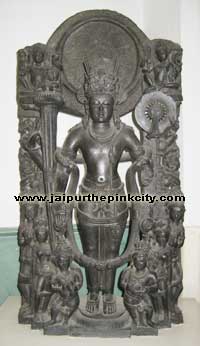 The pink sandstone sculptures of Mathura evolved during the Gupta Empire period (4th-6th century AD) to reach a very high fineness of execution and delicacy in the modeling. Gupta period art would later influence Chinese styles during the Sui dynasty and the artistic styles across the rest of East Asia. Newer sculptures in Afghanistan, in stucco, schist, clay or slate stone, display very strong blending of Indian post-Gupta mannerism and Classical influence. The celebrated bronzes of the Chola dynasty (c. 850-1250) from South India are of particular note; the iconic figure of Nataraja being the classic example. The traditions of Indian sculpture continue into the 20th and 21st centuries with for instance, the granite carving of Mahabalipuram derived from the Pallava dynasty. Contemporary Indian sculpture is typically polymorphous but includes celebrated figures such as Dhruva Mistry.
Jaipur Albert Hall Museum : Sambhar Sculptures
---
In Rajasthan, Sambhar was discovered for the amazing ethnic, ancient sculpture art in 1884 but was not highlighted, because in 1884 small-scale excavations work done in Sambhar, which is well known place for the salt lake. During that excavation, some terracotta structures, coins and seals were found along with a clay stupa. It was believed that Sambhar sculpture art is influenced by Bhuddhism. Later on, nearby 1934, a large scale systematic and scientific excavation was conducted in which a large number of terracotta figurines, stoneware, and decorated discs etc were found. At Albert Hall museum, we can see many sculptures from Sambhar.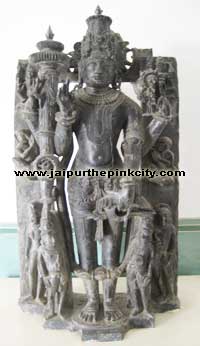 Black stone sculpture of Lord Chaturbhuj Vishnu of 10th century A.D. is a chiseled antiquity collected from Sambhar. The hands are holding the discus, mace and a rosary. The fourth hand is missing. His halo is flanked by Brahma and Shiva. Ayudhpurush hold his attributes, the conch and discus and is accompanied by attendants.
Black stone sculpture of 12th century of Four Armed Lord Vishnu from Madrampura, Sanganer is showing the fine art of medieval time. In the sculpture, Lord Vishnu is holding his attributes, the conch, discus, and mace and lotus flower with a rosary. Above flanking his haloed head are Lord Brahma-the creator and Lord Shiva-the destroyer. In the middle is a devotee couple, one on the either side. Two attendants and Ayudh Purusha are situated at the bottom of the sculpture holding the conch and discus attributes of their Lord. Vishnu is resplendent with finely chiseled ornaments.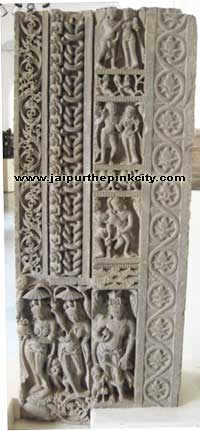 The other attraction of Stone Sculpture section of Albert Hall Museum of Pink City Jaipur is two temple doors, right and left doors of 10th-11th century A.D. These doors are with three columns containing patterns of flowers, serpent deities and panels of Gandharvas, celestial beings, in erotic postures. The lower portions show the goddess Yamuna astride her tortoise vehicle with attendants. According to Brihatsanhita texts, door jambs should invariably depict in the lower portion, river goddesses Ganga or Yamuna with attendants carrying the attributes of the main deity of the temple. The river goddesses purify the temple precincts and the devotees entering to worship by destroying their sins. The remaining portion of the door jamb were to be decorated with patterns of flowers, serpents, pots with sacred coconuts, erotic themes, dwarfs, lions and elephants, lotus and conch-shells.
Matrika Panel of 8th century A.D. from Abhaneri, Dausa is a buff-sand stone panel of the Sapt Matrika - Seven Goddesses is a rare antiquity. In the sculpture, the goddesses are shown dancing with Virbhadra (emanation of Shiva) who holds a Veena. The Matrikas include Maheshwari, Vaishnavi, Varahi, Kaumari, Indrani, Chamunda, and Brahmani (last is missing), references to the female Shakti forms of the principal deities are found in the Durga Saptshati (a holy book of Hindus) of the Markandeya Purana. They were created to vanquish the great demon Mahishasur. Such Matrika panels were sculpted from the 7th to the 13th centuries when Tantrik worship grew in popularity.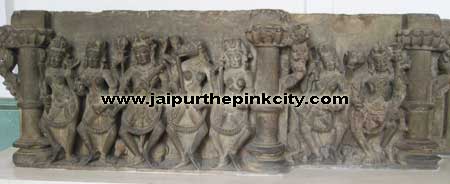 Visitors of Albert Hall Museum Jaipur must see the Matrika Panel because this sculpture is the rarest one and the masterpiece of chiseling perfection.
Buff sand stone sculpture of Yakshi found on the Ganges river bed near Man Mandir, Varanasi is of 4th century A.D. is another rarely find illustration of stone art. A Yakshi is a divine damsel associated with fertility, love and beauty; alternatively they are friendly spirits of the woods and mountains.
Suggested Readings for Jaipur
---
Tags:
---
Museum, Art, Crafts, Science, Art Gallery, Art Museum, History Museum, Albert Hall Museum, Arts and Crafts Museum, Monuments in Jaipur, Hot spots for Jaipur Heritage Tour, Special Attractions in Jaipur Tour, Hotels, Cheap Flights, Holidays, Travel, Vacations, Trip Advisor, Things to do, India, Travel Agency, Air Tickets, Heritage, Jaipur, Travel Planner, Monuments, Rajasthan, Car Rentals, All Inclusive Packages, Photos, Images, Pictures, Jaipur the Pink City, jaipurthepinkcity.com
Choose Best Travel Plan

Our Trip Advisor and Travel Planner will analyze your requirements and will help build your travel itinerary and provide suggestions. It will SAVE your TIME and MONEY.
Comments
---