Holidays >> Travel >> Things to do >> India >> Rajasthan >> Jaipur >> Heritage >> Monuments >> Albert Hall Museum
Albert Hall Museum : An Industrial Art and Craft Museum
Museum, Art, Science, Art Gallery, Art Museum, History Museum, Albert Hall Museum, Arts and Crafts Museum, Monuments in Jaipur, Hot spots for Jaipur Heritage Tour, Special Attractions in Jaipur Tour, Hotels, Cheap Flights, Holidays, Travel, Vacations, Trip Advisor, Things to do, India, Travel Agency, Air Tickets, Heritage, Jaipur, Travel Planner, Monuments, Rajasthan, Car Rentals, All Inclusive Packages
---
Jalandhar Ware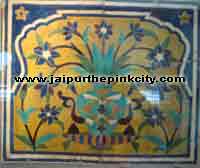 Late 19th century monographs on the pottery of Northern India praise the specimen of colored and enameled tile work of unusual excellence that were produced at Jalandhar by a potter named Muhammed Sharif. It was said that he was able to recreate all the colors and glazes of the old Mughal tile work but was apparently very secretive and died having no sons and did not pass on his secrets to anyone as he worked alone.
The work is characterized by a fluted and leaf modeled design on the underside of the bowls and platters, a copper green and white opaque tin/lead glaze with brushwork in cobalt blue and manganese purple.
Mohammed Sharif was persuaded from time to time to send samples of his craft to various international exhibitions such as in London in 1862 where he exhibited a copy of the old Mughal style mosaic tile work but as a complete painted work on a single or two tiles.
Some examples of this Jalandhar ware exhibits in Albert Hall Museum of Pink City Jaipur which you must see if you are on Jaipur Tour.
Hala Sindh Ware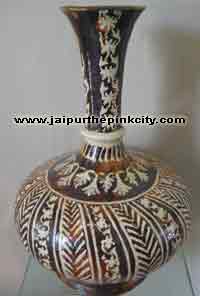 Sindh, now a part of Pakistan, is the site of the civilization and culture that blossomed over several millennia in the subcontinent and gave rise to the Indus Valley Civilization around 5000 B.C. It was conquered by the Persian Achaemenid Empire in the 6th century BC, and became part of the Persian province of Hindush until conquered by the Greeks and the Mauryans. From 711 AD, the area was slowly under control of the succeeding dynasties of Arabs who brought their culture and crafts from Persia to create a fusion of cultures and style.
Hala and Thatta are famous centers for their glazed red clay pottery and tiles called Kashi. The tiles are made in a simple wooden mold while the pots are made on the wheel with red clay. The design is traced onto the tile with the aid of charcoal powder and a perforated design sheet. Before painting, a white or red fine slip is applied to the surface. The painting is usually done first by outline with a cobalt based pigment and then the inner spaces of the design are filled with a colorant like copper oxide, chromium oxide, iron oxide, etc. There are simple two tone variations of the design, like the honey yellow and blue done with the application of a white slip painting without a cobalt outline as well. The red lead is fritted prior to riding down to become the glossy transparent glaze that is characteristic of this style. The Kiln is a simple wood fired up-draught like a large tandoor oven. The ware is placed on shelves in a circular manner with the centre space open for the draught and chimney flue.
Beautiful collection of Hala Sindh Ware can see at Albert Hall Museum of Pink City Jaipur.
Delhi Blue Pottery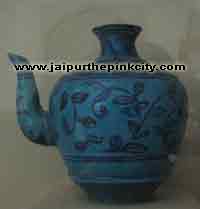 Delhi Blue Pottery was often called Hindustani Chini due to its semi porcellanous and translucent clay body. It was produced by the Kashigar group of potters and therefore termed as Kashi. Besides objects for architectural use, the more popular vessels were small round ink pots called dawat, for holding ink and martbans for preserve jars.
The main ingredient of the clay, called burbura, is composed of white quartz and multani mitti or Fuller s earth. The glaze was produced from powdered glass or kanch and quartz, mixed with gum. Most of the shapes are pressed in a mold as the raw clay has little plasticity. The traditional colors are a cobalt blue for the outline floral decoration and a turquoise from copper which is the main ground.
The most famous potter of the late 19th century of the Delhi potters was Bhola. His pottery was exhibited to great acclaim first that the London Exhibition of 1870 and then at subsequent exhibitions.
A huge collection of Delhi blue pottery is on display at Albert Hall Museum of Pink City Jaipur.
Multan Blue and White Pottery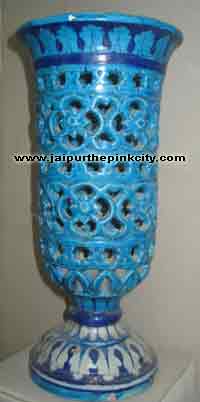 Multan is one of the oldest cities in the Asian subcontinent. It has seen a lot of turmoil because of its location on a major invasion route between South Asia and Central Asia. It is believed to have been visited by Alexander the Great and is famous for its Sufi shrines.
In the 7th century, Multan was conquered along with Sindh by the army of Muhammad Bin Qasim. In 1853, during a limited excavation on Qillah Kohna Qasim Bagh, Alexander Cunningham found glazed tiles made in Multan in about 900 A.D. These tiles had been used in the mosque built by Muhammad Bin Qasim on his arrival in Multan.
The makers are known as Kashigars, the craft as Kashigari. The ware is made of red clay and single fired. When partially dry, it is covered with a white slip called Astar or Safeda , and is then painted with cobalt and copper blue and dipped in transparent glaze made of Kanch (Glass).
A well known potter in this type of ware was Mohammed Azim of Multan who had shown some experimental efforts in glazing at the Calcutta Internation Exhibition. Another potter of Mulatan, Pir Baksh, was one of the famous potters of the area who sent his work to the Great Exhibitions. The pottery was also developed in the late 19th century by Lockwood Kipling, Principal of the Lahore College of Art. By 1892 there was an introduction of brown and green colors in the normal Multan repertoire of blue, as in for example, the use of manganese for purple and green, a mixture of manganese and copper, painted on a brown ground.
Good collection of Multan Blue Pottery and White Pottery at Albert Hall Museum of Pink City Jaipur exhibits for the visitors.
Suggested Readings for Jaipur
---
Tags:
---
Museum, Art, Crafts, Science, Art Gallery, Art Museum, History Museum, Albert Hall Museum, Arts and Crafts Museum, Monuments in Jaipur, Hot spots for Jaipur Heritage Tour, Special Attractions in Jaipur Tour, Hotels, Cheap Flights, Holidays, Travel, Vacations, Trip Advisor, Things to do, India, Travel Agency, Air Tickets, Heritage, Jaipur, Travel Planner, Monuments, Rajasthan, Car Rentals, All Inclusive Packages, Photos, Images, Pictures, Jaipur the Pink City, jaipurthepinkcity.com
Choose Best Travel Plan

Our Trip Advisor and Travel Planner will analyze your requirements and will help build your travel itinerary and provide suggestions. It will SAVE your TIME and MONEY.
Comments
---