India Tour
India tour and travel destinations
---
India tour is a tour of incredible diversity, a tour of World heritage sites, a tour of vivid geographical and climatic regions and a tour to experience high valued culture. India is well known for hospitality. Atithi Devo Bhavah (Guest is God) is the culture and tradition of India. India is the seventh largest country by area, whereas the second-most populous country in the world. India is subdivided into 28 states and 7 union territories. Delhi is the capital of India. A vast diversity in geography, climate, culture, language, traditions, food, lifestyle, clothing, flora and fauna in every state of India makes it unique tour destination. Being a tourist, you can find everything in a single country India, i.e. ocean, mountains, desert, evergreen forests, heavy rain fall, draught, sea, rivers, water falls, snow fall, historical monuments, world heritage sites and much more!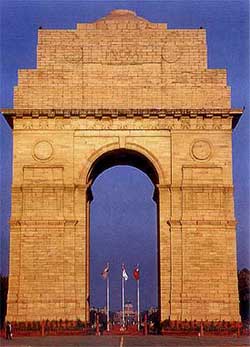 Tourism in India is the largest service industry. In 2010, total Foreign Tourist Arrivals (FTA) in India were 5.78 million and India generated about 200 billion US dollars in 2008 and that is expected to increase to US$375.5 billion by 2018 at a 9.4% annual growth rate.
India Tour: About India
---
The name India is derived from Indus. Hindi is the national language of India. In Hindi, India is called Hindustan and Bharat. The ancient Greeks referred to the Indians as Indoi, which translates as "the people of the Indus". The geographical term Bharat, which is recognized by the Constitution of India as an official name for the country, is used by many Indian languages in various subtle guises. The eponym of Bharat is Bharata, a mythological figure that Hindu scriptures describe as a legendary emperor of ancient India. Hindustan was originally a Persian word that meant "Land of the Hindus"; prior to 1947, it referred to a region that encompassed northern India and Pakistan. It is occasionally used to solely denote India in its entirety.
India shares borders with Pakistan to the west, China and Nepal to the north, Bhutan to the north-east, and Bangladesh and Myanmar to the east. Sri Lanka lies to the south, Maldives to the south-west and Indonesia to the south-east of India in the Indian Ocean.
India Tour: How to Get In
---
There are many ways to Get in India. It all depends on "from where you are coming" and "what is your purpose". Travel by air, travel by sea, travel by road are the possible ways depending on "from where you are coming", and different kinds of Visas are applicable for different purposes.
Visa for India Tour
You can get a tourist visa (six months), a business visa (6 months, one year or more, multiple entries) or a student visa (up to 5 years). A special 10-year visa (US$150, business and tourist) is available to US citizens only. An Indian visa is valid from the day it is issued, not the date of entry. There is a minimum two month gap period between consecutive tourist visas. Tourist visa valid for 6 months can have maximum duration of stay of 90 days per visit, depending on citizenship. Make sure to check maximum duration per visit with your local embassy. As of 1 January 2010, India has introduced a new TOVA (Tourist-visa-on-arrival) scheme, which is available to citizens of Finland, Japan, New Zealand, Luxembourg, Singapore, Cambodia, Vietnam, Laos, Myanmar, Indonesia and Philippines at the airports in Chennai, Mumbai, Delhi and Kolkata for a stay of up to 30 days. It can take some time (no set period, allow between 1 - 6 hours) to process the application once you have arrived at the Airport. The TOVA Visa costs US$60, is valid for a single entry and is not extendable. In addition, there is a minimum two month gap between the expiry of one tourist visa and the issuance of the next. Please contact the local embassy/consulate for more information. There are other categories for specialized purposes. The missionary visa is mandatory for anyone who is visiting India "primarily to take part in religious activities". This rule is meant to combat religious conversion, particularly of Hindus to Christianity. There have been cases where preachers have been deported for addressing religious congregations while on a tourist visa. You don't need to be worried if you are just on a religious tour of churches in India. If you are on a Student, Employment, Research or Missionary visa, you need to register within 14 days of arrival with the Foreigners Regional Registration Office where you will be staying. If the place you are staying at doesn't have one, you need to register at the local police station. All visitors who intend to stay more than 180 days also need to be registered.
India Tour: Get In By Plane
The major points of entry are Mumbai, Delhi, Bengaluru, Hyderabad and Chennai. There are many nonstop, direct and connecting choices to these cities from Europe, North America, Middle East and Australia. Africa is also connected to Delhi and Mumbai. Book Cheap Tickets for Flights to and from India.
India Tour: Get In By Boat
India has several international ports on its peninsula. Kochi, Mumbai, Goa and Chennai are the main ones handling passenger traffic, while the rest mainly handle cargo. However, due to the profusion of cheap flights, there no longer appear to be any scheduled ferry services from India to the Middle East. Some cruise lines that travel to India include Indian Oceans Eden II and Grand Voyage Seychelles-Dubai.
India Tour: Get In By Train
There are two links from Pakistan. The Samjhauta Express runs from Lahore to Attari near Amritsar in Punjab. The Thar Express, restarted in February 2006 after 40 years out of service, runs from Munabao in the Indian state of Rajasthan to Khokrapar in Pakistan's Sindh province; however, this crossing is not open to foreign tourists.
From Nepal, trains run between Khajuri in Dhanusa district of Nepal and Jaynagar in Bihar, operated by Nepal Railways.
Train services from Bangladesh were suspended for 42 years, but the Moitree Express started running again between Dhaka to Kolkata in April 2008. The service is biweekly: A Bangledeshi train leaves Dhaka every Saturday, returning on Sunday, while an Indian train leaves Kolkata on Saturdays and returns the next day.
India Tour: Get In By Car
From Pakistan the only land crossing is from Lahore to Amritsar via the Attari/Wagah border crossing. See Istanbul to New Delhi over land. You will need a Carnet de Passage if crossing with your own vehicle. The process is not particularly lengthy - crossing with your own vehicle from/to Pakistan should take a maximum of 3 hours to clear both borders for you and your vehicle. There are also crossing points with Bangladesh, Nepal and Bhutan.
There is one open border crossing between India and Myanmar at Moreh, Manipur, but special permits are required to reach the border from either side.
The Nathu La pass in Sikkim, which borders Tibet in China is the only open border crossing between India and China. For now though, only traders and pilgrims are allowed to cross the border, and it is still not open to tourists. Special permits are required to visit the pass from either side.
India Tour: Get In By Bus
From Nepal buses cross the border daily, usually with connections to New Delhi, Lucknow, Patna and Varanasi. However, it's cheaper and more reliable to take one bus to the border crossing and another from there on. The border crossings are (India/Nepal side) Sunauli/Bhairawa from Varanasi, Raxaul/Birganj from Patna, Kolkata, Kakarbhitta from Darjeeling, and Mahendrenagar-Banbassa from Delhi.
The Royal Bhutanese Government runs a service to/from Phuentsholing. These buses depart from Kolkata's Esplanade bus station at 7 p.m. on Tuesday, Thursday and Saturday and from the Phuentsholing Bhutan Post office at 3 p.m. on Monday, Wednesday and Friday.
From Bangladesh there are a number of land entry points to India. The most common way is the regular air-conditioned and comfortable bus services from Dhaka to Kolkata via Haridaspur (India)/Benapole (Bangladesh) border post. From Kolkata 2 buses leave every Tuesday, Thursday, and Saturday while from Dhaka they leave on Monday, Wednesday, and Friday.
India tour By States
---
India Tour: Andhra Pradesh
Andhra Pradesh has a variety of attractions including beaches, hills, wildlife, forests and temples. Hyderabad (Capital city of Andhra Pradesh), Nagarjuna Sagar, Anantagiri Hills, Srisailam, Warangal, Visakhapatnam, Vijayawada (sea beaches), Tirupati, Belum Caves, Mallelatheertham (Trek and Forests), Farahabad (River Ride), Talakona (Waterfalls), Tyda, Kinnerasani (Wildlife sanctuary), Kondamadugu, Horsley Hills, Undavalli caves, Yaganti, Papikondalu, Kolleru (Bird Sanctuary), Bhongir Fort, Yadagiri gutta, Guthikonda Caves, Mogalarajapuram Caves are few of the most popular tourist places of Andhra Pradesh, India.
India Tour: Arunachal Pradesh Travel
1. Tawang, a beautiful town famous for its Buddhist monastery, 2. Ziro, famous for cultural festivals, 3. The Namdapha tiger project in Changlang district, 4. Sela lake near Bomdila with its bamboo bridges overhanging the river, 5. Religious places of interest include Malinithan in Lekhabali, Rukhmininagar near Roing (the place where Rukmini, Lord Krishna's wife in Hindu mythology, is said to have lived), and Parshuram Kund in Lohit district (which is believed to be the lake where Parshuram washed away his sins), 6. Rafting and trekking are common activities. A visitor's permit from the tourism department is required, 7. Places like Tuting have wonderful, undiscovered scenic beauty, 8. Jawaharlal Nehru Museum, Itanagar, 9. The state is rich in wildlife. Perhaps the highest diversity of mammals in India is in Arunachal Pradesh (200+ species). The diversity of birds is also very high, 700+
India Tour: Assam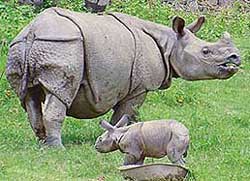 1. Brahmaputra river - the only male river in India, 2. Guwahati - One of the key urban centres of Assam, 3. Majuli - The largest freshwater island in South Asia, 4. Kaziranga National Park - This is one of the few places covered as a World Heritage Site and the main habitat of the Great Indian One-horned Rhinoceros, 5. Jatinga - This is famous for mysterious suicides of the birds, 6. Tezpur - Small town steeped in history and culture, 7. Sivasagar - Seat of the Ahom Kingdom, 8. Hajo - an ancient pilgrimage centre, 9. Haflong - Haflong is the only hill station of Assam, 10. Tinsukia - Tinsukia is the second largest city in Assam, 11. Dibrugarh - the tea city of the world.
India Tour: Bihar
1. Patna - Capital of Biahr and famous for royal architecture and rich history, 2. Gaya - the place where Gautam Buddha attained enlightenment, 3. Muzaffarpur - an education hub, 4. Kesariya - Location of the world's largest Buddhist Stupa, 5. Nalanda – Location of one of the world's oldest university, 6. Sasaram – Tomb of Sher Shah Suri, 7. Sonepur Cattle Fair – The Sonepur cattle fair or Sonepur Mela which is the biggest cattle fair of Asia, 8. Takht Sri Patna Sahib – One of the famous Sikh pilgrimage known for the birthplace of Sikh's Tenth Guru Sri Guru Gobind Singh Sahib, 9. Darbhanga – It is among the oldest cities of Bihar, 10. Munger – Home to the only Yoga University in the world, 11. Deoghar- One of the famous Hindu pilgrimage.
India Tour: Chhattisgarh
Chitrakote Falls, Tirathgarh Waterfalls, Chitradhara Waterfalls, Mandawa waterfall, Kanger Dhara waterfall, Akuri Nala waterfall, Amrit Dhara Waterfall, Gavar Ghat Waterfall, Mainpat hill station, Ramdaha Waterfall, Jatmai-Ghatarani Waterfalls, Bastar Dussehra festival, The Goncha Festival - a tribal festival, Kotumsar Caves, Kailash Caves, Gadiya Mountain, Singhanpur cave, Ramgarh and Sita Bengra, Indravati National Park, Kanger Valley National Park, Achanakmar Wildlife Sanctuary, Barnawapara Wildlife Sanctuary, Gomarda Reserve Forest, Barsoor, Malhar (Saravpur), Ratanpur, Sirpur, Anand Prabhu Kudi Vihar, Swastik Vihar, Surguja, Thinthini Patthar, Bambleshwari Temple, Bhoramdeo temple, Champaran, Chandrahasini Devi Temple, Damudhara (Rishab Tirth), Danteshwari Temple (Dantewada), Danteshwari Temple (Jagdalpur), Deorani-Jethani temple, Laxman Temple, Mahamaya Temple, Rajivalochan temple, Shivarinarayan Laxminarayan Temple, Uwasaggaharam Parshwa Teerth, Vishnu temple, Bastar Palace, Anthropological Museum are the attractions of Chhattisgarh Tourism.
India Tour: Delhi
Delhi is the capital of India and one vertex of the golden triangle of Indian tourism. India Gate and Rajpath, Sansad Bhavan, Rashtrapati Bhawan, Connaught Place, Lodhi Gardens are the Lutyens' Delhi. Humayun's Tomb, Purana Quila, Red Fort, Salimgarh Fort, Chandni Chowk and Safdarjung's Tomb are the world famous Mughal monuments in Delhi. Qutub Minar and Tughlaqabad are the earlier monuments and the tourist attractions in Delhi. Akshardham Temple, Laxminarayan Temple, Cathedral Church of Redemption, Gurdwara Bangla Sahib, ISKCON Temple, Jama Masjid, Lotus Temple and St. James' Church are few of the most famous religious places in Delhi. National Agricultural Science Museum and National Museum, New Delhi are good museums for tourists. Jantar Mantar, Lodhi Gardens, Nizamuddin Dargah, Raj Ghat, Shanti Vana, Mangal Bazaar and Laxminagar are few more interesting places and attractions for tourists in Delhi.
India Tour: Goa
The state of Goa is famous for its excellent beaches, churches, and temples. Arambol, Morjim, Chapora, Vagator, Anjuna, Baga, Calangute, Candolim, Sinquerim, Bambolim, Miramar, Dona Paula are the famous beaches in North Goa. Bogmalo, Majorda, Colva, Benaulim, Varca, Cavelossim, Mobor, Canaguinim, Agonda, Palolem are the famous beaches in South Goa.
India Tour: Gujarat
Gujarat, the seventh largest state in India, located in the western part of India with a coastline of 1600 km (longest in India). It is the tenth most popular state in India for tourists. Gujarat offers scenic beauty from Great Rann of Kutch to the hills of Saputara. Gujarat is the sole home of the pure Asiatic Lions and is considered to be one of the most important protected areas in Asia. Gujarat has many tourist attractions. Wilson Hills, Saputara and Pavagadh are famous hill stations of Gujarat. Dwarka, Dakor, Ambaji, Palitana, Mahudi, Shankheshwar, Somnath, Shamlaji, Bahucharaji, Pavagadh, Kabirvad, Sun Temple, Modhera, Akshardham (Gandhinagar), Shri Swaminarayan Mandir, Ahmedabad, Jain temples, Hindu Temples and Sudama Mandir are the famous religious centers of Gujarat. Gujarat is habitat for the world's rarest as well large number of Fauna & Flora, Fauna includes Asiatic Lions, Wild Ass, Blackbuck, Bears, Monkeys, Nilgai, Paradise Flycatcher, Chinkara, Dolphins, Whale Shark and Migratory Birds like Flamingos, Pelican, Storks. Flora includes species of Khair, Sadad, Timru, Babul, Salai, Khakro, Ber, Asundro and Bordi. Gujarat also has National park. Sanctuaries at Gir National Park, Marine National Park, Gulf of Kutch, Vansda National Park, Nalsarovar Bird Sanctuary, Kutch Bustard Sanctuary and Blackbuck National Park, Velavadar are the major tourist attractions.
India Tour: Haryana
Haryana Pilgrim Destinations offers the devotes with a wide range of sacred places which are of considerable religious and historical significance. The pilgrim places of Haryana are thronged by devotees all over the year, who visit the important religious places in order to seek divine blessings and eternal happiness. Most significant tourism spots of Haryana are Kurukshetra, Jyotisar, Thanesar, Sthanesvar Mahadev Temple, Ma Bhadra Kali Temple, Pehowa, Panchkula, Morni hills, Tikkar Taal and Dhosi Hill.
India Tour: Jammu and Kashmir
Jammu and Kashmir is the northernmost state of India. Jammu is noted for its scenic landscape, ancient temples and mosques, Hindu and Muslim shrines, castles, gardens and forts. Amarnath, Vaishno Devi, Dal Lake, Srinagar Pahalgam, Gulmarg, Yeusmarg and Mughal Gardens are the maint tourist attractions of Jammu and Kashmir.
India Tour: Karnataka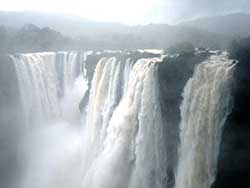 Karnataka has been ranked as fifth most popular destination for tourism among states of India. It has the highest number of national protected monuments in India, at 507. Karnataka is famous for amazing waterfalls, exciting rock climbing, beautiful beaches and large range of wildlife along with heritage monuments. Jog falls of Shimoga District in Karnataka is one of the highest waterfalls in Asia. This state has 21 wildlife sanctuaries and five National parks and is home to more than 500 species of birds. Beaches of Karnataka at Karwar, Gokarna, Murdeshwara, Surathkal are worldwide famous as very good tourist destinations. Yana in Uttara Kannada, Fort in Chitradurga, Ramnagara near Bengaluru district, Shivagange in Tumkur district and tekal in Kolar district are a rock climbers heaven.
India Tour: Kerala
Kerala is also known as God's Own Country for the beautiful beaches and backwaters region. Kerala is a state on the tropical Malabar Coast of southwestern India. Nicknamed as one of the "10 paradises of the world" by National Geographic, Kerala is famous especially for its eco-tourism initiatives. Kovalam, Kappad, Muzhuppilangad, Cherai and Varkala are the popular beaches of Kerala, Munnar, Thekkady, Nelliampathi, Ponmudi and Wayanad are the famous hill stations, Bekal Fort in Kanhangad and St. Angelo's Fort in Kannur and the National Parks/ Wildlife sanctuaries at Periyar and Eravikulam are other popular tourist destinations in Kerala.
India Tour: Madhya Pradesh
Madhya Pradesh is called the "Heart of India" because of its location in the centre of the country. Heritage monuments, exquisitely carved temples, stupas, forts and palaces, spectacular mountain ranges, meandering rivers and miles and miles of dense forests are the main tourist attractions in Madhya Pradesh. The temples of Khajuraho are world-famous for their erotic sculptures, and are a UNESCO World Heritage Site. Madhya Pradesh is also known as Tiger State because of the tiger population. Famous national parks like Kanha, Bandhavgadh, Shivpuri, Sanjay, Pench are located in Madhya Pradesh. Kuno Palpur national park is getting African cheetas and is expected to become only reserve having four species of big cats (lion, tiger, leopord and cheetah).
India Tour: Maharashtra
Maharashtra is well known for Bollywood film city Mumbai. There are many religious, historical and heritage tourist spots in Maharashtra. Ajanta Caves, Ellora Caves and Chhatrapati Shivaji Terminus are the three UNESCO World Heritage sites in Maharashtra. Ancient Elephanta Caves and Islamic Haji Ali Mosque of Mumbai are also the famous tourist destinations. Maharashtra also has many adventure tourism destinations, including kayaking, rock climbing, canoeing, paragliding, snorkeling, and scuba diving. Maharashtra also has several pristine national parks and reserves, some of the best ones are Tadoba with excellent accommodation and safari experiences besides little known by amazing wildlife destinations like Koyna, Nagzira (very small with incredible sightings), Melghat (disturbed with massive mining truck movement), Dajipur, Radhanagari and of course the only national park within metropolis city limits in the world – Sanjay Gandhi National Park. The Bibi Ka Maqbara at Aurangabad the Mahalakshmi temple at Kolhapur, the cities of Nashik, Trimbak are famous for religious importance.
India Tour: Manipur
Manipur as the name suggest is a land of jewels. Beautiful lakes, floating islands and greenery with the moderate climate making it a tourists' heaven. Dance, theater, sculpture and martial arts of Manipur are the spectacular arts. Some of the main tourist attractions of Manipur are Imphal, Churachandpur, Keibul Lamjao National Park, War cemeteries, Loktak Lake, Moreh.
India Tour: Meghalaya
Meghalaya constitutes ecotourism circuit in India because of the existence of some of the thickest subtropical forests in Meghalaya. Meghalaya, also offers many adventure tourism opportunities in the form of mountaineering, rock climbing, trekking and hiking, water sports etc. Rowboats, paddleboats, sailing boats, cruise-boats, water-scooters and speedboats are very good tourist attractions in Meghalaya. Cherrapunjee is one of the most popular tourist spots in North East of India. Elephant Falls, Shadthum Falls, Weinia falls, Bishop Falls, Nohkalikai Falls, Langshiang Falls and Sweet Falls are the popular waterfalls in Meghalaya which attracts tourists in large number.
India Tour: Mizoram
Mizoram is very well known in tourism sector for beautiful landscapes, pleasent climate, bird diversity, Lushai hills and wild elephants. Some beautiful lakes, i.e. Palak Dil and Tam Dil are also good tourist destinations in Mizoram.
India Tour: Orissa
Orissa is a center of spirituality, religion, culture, art, wonderful ancient and medieval architecture, natural beauty, ethnic and classical dance forms, lovely sea beaches and variety of festivals. Orissa has kept the religion of Buddhism alive. Stupas, rock-cut caves, rock-edicts, excavated monasteries, viharas, chaityas and sacred relics in caskets and the Rock-edicts of Ashoka make the history alive. In addition to Buddhist religious and spiritual centers, Orissa is also well known for Hindu temples. Jagnnath Temple at Puri in Orissa - UNESCO's World Heritage Site, Konark Sun temple and The Leaning Temple of Huma are world famous Hindu temples which attract tourists in large number every year. Last but not least, the tribal lifestyle, tribal art and culture can also witness in Orissa.
India Tour: Pondicherry
The Union Territory of Pondicherry comprises four coastal regions viz- Pondicherry, Karaikal, Mahe and Yanam. Pondicherry is the Capital of this Union Territory and one of the most popular tourist destinations in South India. Pondicherry has been described by National Geographic as "a glowing highlight of subcontinental sojourn". The city has many beautiful colonial buildings, churches, temples, and statues, which, combined with the systematic town planning and the well-planned French-style avenues, still preserve much of the colonial ambience.
India Tour: Punjab
Punjab is named after the five rivers flow in the state. Punjab is worldwide famous for its cuisine, culture and villages. Rural tourism is the main tourism segment of Punjab. Indian farms and agriculture based life can experience here in Punjab. Apart from that, Golden temple or Harmandir Sahib is a world renowned spiritual site in Punjab. Millions of devotees and tourists visit Golden temple Gurudwara every day. You will find many other famous Gurudwaras and temples in Punjab. Punjab has a rich history. You can find it in many of the forts of Punjab, i.e. Gobindgarh fort Amritsar, Ancient fort at Bathinda, Faridkot fort, Quila Mubarak, Bahadurgarh Fort, Anandpur Sahib Fort, Phillaur Fort and some other forts. Museums, Gardens and Zoo of Punjab are also good tourist destinations.
India Tour: Rajasthan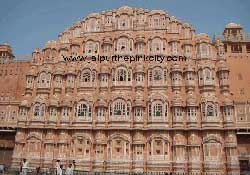 Rajasthan is one of the most attractive travel destination in Nothern India. In Rajasthan, you will find amazing unity in diversity. In every city of Rajasthan, you will find different language, different culture, different lifestyle, different cuisine, different festivals, different climate and different geography. Rajasthan is known worldwide for incredible hospitality. The guest is treated like a God in Rajasthan. Major travel attractions of Rajasthan are:
Jaipur – The capital of Rajasthan, famous for its rich history, royal architecture and heritage.
Jodhpur – Fortress-city at the edge of the Thar Desert, famous for its blue homes and architecture.
Udaipur – Known as the "Venice" of India.
Jaisalmer – Famous for its golden fortress.
Barmer – Barmer and surrounding areas offer perfect picture of typical Rajasthani villages.
Bikaner – Famous for its medieval history as a trade route outpost.
Mount Abu – Is a popular hill station, the highest peak in the Aravalli Range of Rajasthan, Guru Shikhar is located here.
Pushkar – It has the first and one of the very Brahma temples in the world.
Keoladeo National Park – A UNESCO World Heritage Site
Nathdwara – This town near Udaipur hosts the famous temple of Shrinathji.
Ranthambore – Has one of the largest national parks in India.
Shekhawati - For traditional Havelis
India Tour: Sikkim
The word Sikkim is derived from Suk-Heem which means "peaceful home". The capital of Sikkim is Gangtok. Sikkim is considered as the land of orchids, mystic cultures and colorful traditions. The popular tourist destinations of Sikkim are Baba Mandir, Nathula Pass, Rumtek Monastery, Handicraft Shops and Tsangpo Lake. Sikkim is well known among trekkers and adventure lovers. Places near Sikkim include Darjeeling also known as the "Queen of Hills" and Kalimpong. Darjeeling, other than its world famous "Darjeeling tea" is also famous for its refined "Prep schools" founded during the British Raj. Kalimpong is also famous for its flora cultivation and is home to many internationally known Nurseries.
India Tour: Tamil Nadu
Archaeological sites with civilization dating back to 3800 years are found in Tamil Nadu. The state also holds the credit of having maximum number of UNESCO World Heritage Sites in India which includes Great Living Chola Temples and Mahabalipuram. With more than 34000 temples, Tamil Nadu has some great temples like Madurai Meenakshi Amman Temple, Brihadeeswarar Temple, Sri Ranganathaswamy Temple. This state is also known for Medical tourism and houses some of Asia's largest hospitals. Kanyakumari is the world famous tourist destination for scenic view of sunset and sunshine over the Indian ocean. Mathur Totti Palam one of the biggest aqueducts, both in height and length, in Asia. Thiruvalluvar statue of the St Tamil poet, highest statue of Asia and ancient wooden palace of Marthandavarma (known as Padmanabapuram palace), Hill stations like Yercaud, Kodaikanal, Ooty, Valparai, Yelagiri are widely visited. Water Falls like Hogenakkal Falls and Wildlife sanctuaries are located across the state. Pichavaram the world's second largest mangrove forest is located in the state.
India Tour: Uttarakhand
Uttarakhand is known as "the abode of the Gods". Uttarakhand is famous among tourists for glaciers, snow-clad mountains, valley of flowers, skiing slopes and dense forests, and many shrines and places of pilgrimage. Char-dhams, the four most sacred and revered Hindu temples: Badrinath, Kedarnath, Gangotri and Yamunotri are also in Uttarakhand. Haridwar - the Gateway to God is also in Uttarakhand and one of the most visited Hindu pilgrimage because it is also related to the rituals after death in Hindus.
India Tour: Uttar Pradesh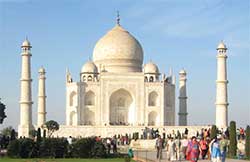 Uttar Pradesh is very well known across the world because of Taj Mahal - UNESCO's World Heritage Site and also included in several listings of seven wonders of the world. Uttar Pradesh is also known for Varanasi, one of the holiest city of Hinduism. The popular tourist places of Uttar Pradesh are Taj Mahal and many other monuments in Agra, Allahabad or Prayag Kumbh Mela, Bithoor, Kanpur, Lucknow, Mathura - the birth place of Lord Krishna, Ayodhya - the birth place of Lord Ram, Jhansi, Sarnath, Kushinagar, Chunar, Fatehpur Sikri and Meerut.
India Tour: West Bengal
West Bengal is a cultural hub of India. West Bengal is the place of tigers. West Bengal is the place of literature. West Bengal is known for very good architecture and palaces. Main tourist attractions of West Bengal are Darjeeling Himalayan Railway (Toy Train), Cooch Behar Palace, Hazarduari Palace, Adina Mosque, Gaur, Shantiniketan, Bishnupur Terracotta Temples, Acharya Jagadish Chandra Bose Indian Botanic Garden, The Great Banyan Tree, Howrah Bridge, B.B.D. Bagh, Dakshineswar Kali Temple, Second Hooghly Bridge, Victoria Memorial, Sunderbans delta of India, St. Paul's Cathedral, Sundarbans National Park, Kumortuli, Salt Lake Stadium, Howrah Station and Eden Gardens.
Featured Video
Suggested Readings for India Tour
---
Places to Visit in India: World Heritage Sites
Places to Visit in India: Hill Stations in India
Tags:
---
India Tour Travel
Comments
---